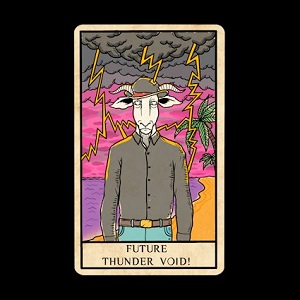 3 April 2023
Future Thunder Void is the latest EP from the globetrotting band Erik & The Worldly Savages, and it continues to capture the group's founder Erik Mut adventurous spirit and multicultural experiences. The EP is a follow up to last year's Break Free, but the band has made a giant leap between these two releases. Future Thunder Void sounds larger than life with a lush, roomy atmosphere, and the inclusion of massive, swelling horns makes it seem as if the EP has a cast of thousands.
Lyrically, Mut continues his themes of escaping the rat race of the city and finding meaning in life outside of capitalistic demands, but never before have they actually sounded so successfully inspirational, couched in a warm, embracing production and sensitive, rousing arrangements. The lead off track "Thunder In Our Hearts" is a modern folk punk anthem, and the band clearly pours their hearts out onto the EP's every moment. The group is at their best when they burn slowly yet intensely on tracks like the smoldering "Letter Back Home," which features direct, straightforward lyrics that would fail in less capable hands.
Future Thunder Void is by far the band's most cohesive and accomplished collection of songs yet, and represents a perfectly crystallized distillation of their ethos.