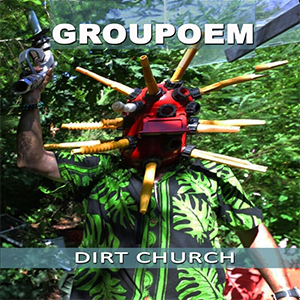 15 July 2017
The story of Groupoem goes back to 1983 when they first formed in Toronto. Decades later and after what was more than a twenty-five year hiatus, the band is back and now located in Vancouver. A hardcore act that skews the strangleholds of the genre with a well-needed dose of melodicism and poetics à la influences Husker Du and Nick Cave, the band has always been too experimental and progressive to fit perfectly into the hardcore mold.
Interestingly, the band's new album Dirt Church (their first release in thirty years) is a combination of newer material recorded in 2014 and 2015, and a large collection of previously unreleased recordings from 1987. Thus, it's the perfect document in-between reformation and recording a new album of all brand new material.
The new songs, especially those like "Affluenza" are more political and socially-minded than ever, but it also finds the band less-inclined toward the break-neck speed of their earlier years. Indeed, songs like "Flat Earth" are daring enough to actually include a rolling, jazzy groove. The older recordings are, unsurprisingly, equally as strong, and document a band who didn't get enough attention back in the day. With any luck, Dirt Church will put Groupoem back on the map and introduce them to an even larger fan base than ever before.