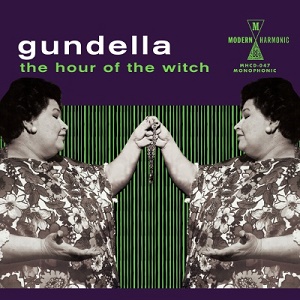 18 October 2017
Just in time for Samhain, Gundella's classic obscure educational record about witchcraft sees its very first reissue for the millennium's uninitiated.
The Hour of the Witch effectively serves as an introduction to the dark arts. In the first half, the Detroit-based witch gives a general introduction, including a personal history of the occult, an explanation of covens, a description of magickal knowledge and a brief how-to concerning finding your inner power, all told in a second-grade tone recalling the narration on a Walt Disney Presents episode. The second half gets more technical, including a guide for preparing witchcraft, both physically with candles and mentally, and a recitation of several active spells, ranging from encouraging lovers to discouraging suitors. Beneath the spoken word, a layer of sound effects – organ flourishes and explosions – punctuate her voice.
Whether you're immersed in the occult or entertained by its kitsch, Gundella serves as a knowledgeable, passionate and engaging narrator. Who knows? Maybe you'll learn something.