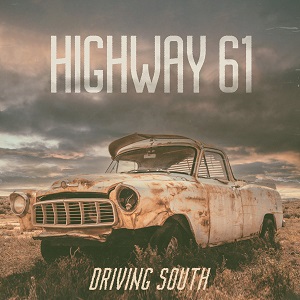 10 April 2023
The Big T has sung the praises of Boston's Rum Bar Records in print and online enough to not need to explain the merits of the label continually putting catchy guitar music back in the limelight. But one thing that often gets overlooked by the punk and power pop heads that follow them is that the label also spotlights a style of blues- and roots-based rock & roll that's fallen ever further out of fashion as the decades pass. Not for these artists, however.
Fronted by Streetwalkin' Cheetahs mastermind Frank Meyer, the blues-rocking Highway 61 originally existed thirty years ago, mentored by guitarist/vocalist Alan Mirikitani, AKA BB Chung King, leader of long-lost L.A. rockers the Buddah Heads. Mirikitani died of leukemia in 2015, and the 61ers reconvened to finally cut that debut album they never got around to before other projects took priority. Driving South sits squarely in the tradition of white rockers turbocharging the blues for their own purposes, but Highway 61 fits alongside the Rolling Stones, the Faces, and the Black Crowes – the cultural appropriation is out of love, not cynicism, and the end result turns into rock & roll anyway. Harder than the bands cited above, but nowhere near the blues metal this could become in the wrong hands, the band gets good 'n' greasy on "Midnight Train" and "Walk On Water" (which features some nasty slide from Mirikitani, recorded before he passed), hits brutally on "Bad Day" and "Walk Away," and just generally bashes away unapologetically in the groove everywhere else. Driving South is what Aerosmith might have sounded like with a better singer, a more faithful musical core, and a lot less cocaine.
Proof that holding onto a dream for decades can pay off, Leather Catsuit is the brainchild of singer/songwriter Kim Olin, and an idea germinating since the eighties. The rock & roll DJs' debut EP bring in pals she made along the way, like bassist Johnny Pisano, drummer Jon Weber (both of whom anchor fellow traveler Willie Nile's band), and, as co-writer, producer, and guitarist, Steve Conte, whose resumé include everything from hair metallers Company of Wolves to the New York Dolls and Michael Monroe, not to mention his own superlative solo efforts. He and Olin come up with four songs (plus one reworked from songwriter Dave DeLuca's catalog) that rock ("Piece of the Pie"), roll ("Can't Get You Off My Mind"), weep ("A Woman Alone"), and worry ("Broken"). "You're Killing Me" caps it off with a midtempo moan that puts melody, emotion, and soul into an irresistible package.
Similarly, L.A.'s Slamdinistas put a relatively unknown singer/songwriter (Gabriel Johns) in the company of rock & roll veterans, in this case guitarist/co-writer Loren Molinare from the Dogs, Little Caesar and the current lineup of the Cruzados, guitarist Mike Gavigan from the Blessings, bassist Paul Ill from too many acts to count, and drummer Brian Irving from Glitter Trash, Pat Todd & the Rank Outsiders and Gilby Clarke's band. While the musicians create a backdrop of melodic, country- and blues-inflected grit-rock, Johns comes off like a survivor of a hard life, and his tunes sound like declarations of the joys of coming out the other side of something other than paradise. "Time Flies By," "We Say Goodbye," and "Get Back to Myself" flaunt actual maturity (gasp), which makes the wild-eyed glee of "Boy/Girl," "Cut Me Some Slack," and a cover of Ian McLagan's Johnny Lee Schell penned "Little Troublemaker" all the more potent. If only most so-called classic rock sounded like this, the airwaves would be a much less irritating place.