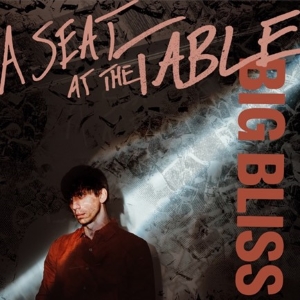 8 April 2023
After loving the first Big Bliss LP, "At Middle Distance" (ExitStencilMusic, 2018) and waiting patiently for new music, I was so happy to speak here with singer/songwriter, Tim Race, about the late '22 release of the "Sleep Paralysis" single. At the time, Tim told me the band has been working on the next album, "Vital Return" which is finally set to come out August 18th on Good Eye Records.
For now, we have another teaser, as the new single, "A Seat at the Table", just came out this week. And it's a hands-down stunner. Strong bass and drum rhythms support soaring guitars that slightly reverb and echo. As with other Big Bliss music, there's a nod to R.E.M.'s ringing jangles supplied by Peter Buck, while still sounding fresh and new.
Meanwhile, Tim sings of one of the saddest realities in American society; how young people have been smothered by near daily gun violence and disasters from Columbine to Sandy Hook to Uvalde, and so on. Fearing for their lives, they scan TV or the Internet and witness hostile division among adults that spurred the January 6th insurrection. Through this loss of innocence, they've also missed out on fundamental things that prior generations had.
Tim's lyrical phrases are potent poetry, reflecting his anger and experience in terse phrases:
"Familiar, another disaster. In my generation. Body counting as a ceremony.
I learn who I am. In the crush of an atrocity.
We see that our seat has been taken. Our seat at the table. The wrong place, the wrong time. The wrong reasons. Fish in a barrel. Existence of evil. The bedrock of my memory."
Links
Directed, shot, and edited by Tim, the accompanying video is equally captivating as a companion to the music and words.