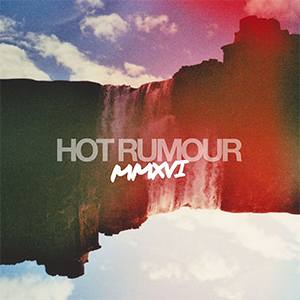 29 April 2016
Hot Rumour are a buzzy new trio from Los Angeles; comprised of Frankie Siragusa, Aaron Ficchi, and Josh Ficchi —the latter two being brothers. Their new, debut EP, MMXVI, is a slick and razor sharp concoction of pop and alternative rock.
There's something immediately bombastic and even affected about their sound, but it strangely works in a uniquely counter-intuitive way. They are, after all, from a city built upon plastic and artificiality; so Hot Rumour are openly and brazenly mirroring their surroundings. In this vein, they are similar to the later slick, corporate disco of Blondie, a conscious pivot that was and is often misinterpreted as selling out.
Songs like the infectious "Call 'Em Out" deftly straddle the line between rock and dancepop, almost becoming a more commercial strain of synthpunk. Other slow burners like "All Going To Hell" and the closer "Alien" are moodier and occasionally verge on the gothic.
MMXVI is a carefully measured and styled debut that, for the most part, succeeds at every twist and turn. There's a thick sheen to Hot Rumour's sound, but beneath the manufactured gloss is a keen knack for power-pop melodies and icy, electronic hooks. MMXVI is out April 29th.