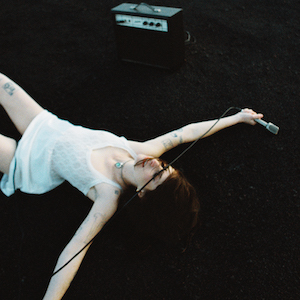 2 November 2023
Intimate and epic at once, the stunning fourth album from Los Angeles' Jilian Medford, aka IAN SWEET, meshes form and content with dazzling flair. Matching her sad, sweet voice to hazy, warped pop textures, SUCKER plunges headlong into unfiltered sagas of romantic desperation and existential dread, deftly using soft-loud-soft dynamics and dense, unpredictable arrangements to create a sense of relentless emotional chaos.
"I've been a mess / Haven't slept," she confesses in the toe-tapping "Smoking Again," while "Emergency Contact" brings a soaring grandeur to images of crying in the shower and screaming alone in the car. If "Your Spit" playfully declares, "Kiss me like you mean it," the woozy title track finds her "so far from healing," as she declares, "I'd be a fool to love you / But I did it anyway."
It's tempting to view the crushing angst of SUCKER as a cry for help. In any case, Medford's harrowing eloquence is the mark of a gifted storyteller.