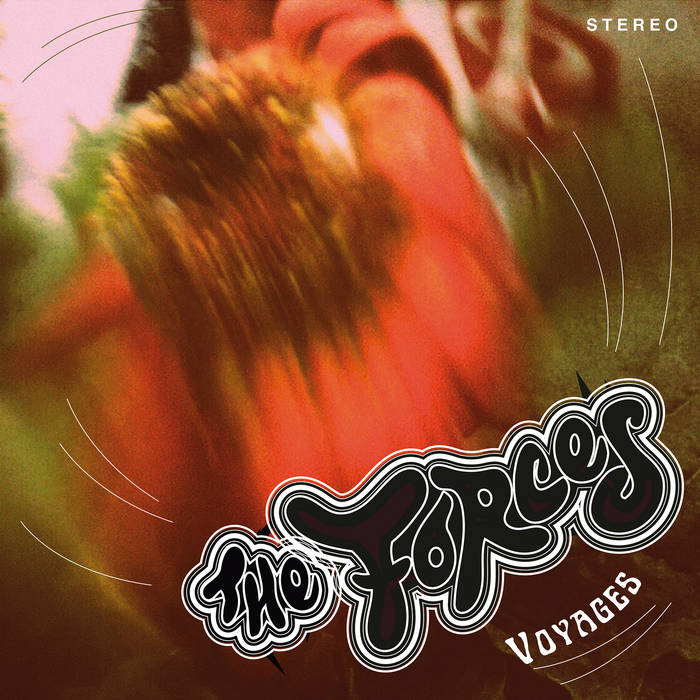 2 November 2023
Any music that elicits a knee-jerk response from me, a thought process akin to "what in the world is happening here," typically signals that I'm about to embark on a musical escapade that I'll likely relish—or, at the very least, delve into extensively. After all, where's the excitement when music is dished out on a silver platter, obediently following the well-trodden paths of least resistance? True exhilaration lies in its ability to play by its own set of rules or, perhaps, to unabashedly disregard rules altogether, whether self-imposed or otherwise.
Thus, my initial reaction to the exuberant emergence of "Intro (Out of my Mind)" from The Forces' album Voyages paradoxically serves as a signal to buckle up for a deep dive into this uncharted sonic terrain rather than reacting like any normal—or shall I say, narrow-minded—individual would and run. Yes, it might appear as if Yes took a dive into a flower-power fantasy while a brass ensemble melts into the sweltering heat as a prelude to the prelude, but it's essential to remember that one track hardly defines the entirety of an album. Onward we march, then.
The album, with its trippy yet gratifying nature, exists within the confines of its own meticulously defined universe. Here, Beatle-esque harmonies and Beach Boy ballads* perform a delicate dance with the kind of sounds that latter-day retro maestros like Jellyfish and Redd Kross would've fought tooth and nail to get their hands on.
"Birdie" emerges as a peculiar hybrid, blending '60s psychedelia with Tex-Mex rhythms, almost as if McCartney had penned "Eleanor Rigby" during a layover in a Tijuana motel room. "Coming Home" exudes a soulful allure, initially sauntering down the sonic alleyways reminiscent of The Zombies' "Time of the Season" before culminating in a scorching onslaught of psychedelic guitar solos, and does so seamlessly as if it were the most natural progression in the universe. Even the inclusion of odd musical skits and spoken-word interludes finds a place in this unique environment, somehow making perfect sense within the album's kaleidoscopic narrative.
Voyages lives up to its name, serving as an auditory vessel that transports you through realms both concrete and fantastical, weaving in and out of the fabric of what once was and what might yet be. It traverses psychedelic pathways while deftly juggling the potential of pastoral pop. It's a blend of nostalgia and forward-thinking innovation, grounding the listener in a meditative state while also evoking the sensation of traversing through the fluidity of time, perhaps even dimensions.
When was the last time an album achieved all that? It's been a while, I'd wager.
Website
Twitter
Bandcamp
Instagram
Facebook
YouTube