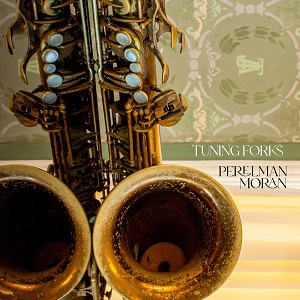 18 September 2023
Tuning forks, so the theory goes, provide more than simply a way to make sure your instrument is on key – they can provide therapeutic vibrations and tools. Improvisational saxophonist Ivo Perelman has devoted a great deal of study to this theory, and decided to test it out in the company of vibraphone master Matt Moran – the atmosphere of vibes is, after all, not a million miles away from that of a tuning fork.
While it's beyond reductive to put it this way, Tuning Forks consists of Moran playing melodies, and Perelman reacting with his usual brand of spontaneous composition. There's more going on, of course – just the fact that each piece is named after a mathematical, scientific or musical genius indicates that. Regardless of whether or not you buy into the tuning fork theory, or even care what the songs are titled, Perelman reaches a new level of performance. Clearly he's keying in on Moran's vibrations (no snark intended), using his ringing tones to guide his sax to richer, more melodic, but still unchained playing. He's clearly searching for the soul balm that comes from absorbing what's in front of him as sound , taking it into his very pores, digesting it, and letting it inform his own work at a deep level.
On the surface it may feel like Perelman is simply engaging in one of his usual improvisational duets on Tuning Forks. But listen to what he's saying, listen to what Moran is providing, and there's clearly deeper communication happening – the kind of communication that presents itself as something to not only appreciate, but join.