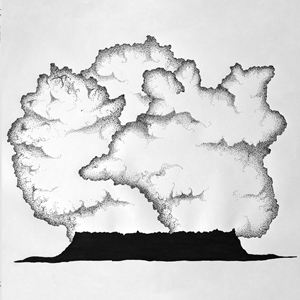 10 April 2012
I was not familiar with Jon Porras's work as Elm or with Barn Owl, but I can say that his solo work is top notch. More carefully arranged than last year's Undercurrent, Black Mesa is the rare kind of ambient drone music I enjoy. It has more in common with post-rock as it has more variation than most drone. As the song titles would suggest, the record evokes a feeling of dread as one would journey through badlands. As is the case with most of the album, a lot comes from a little. The foundation track of every song starts with electric guitar with, usually, few other tracks in the mix. The main riff of "Into Midnight," is tremolo-heavy and creates a general sense of unease. Around 7 minutes in, a delay effected riff screeches in like a creature seeking prey. A Rhodes piano surfaces in "Blue Crescent Vision," as well as the first real example of drone. But there is so much pretty in there, too, that nothing ever sounds repetitive.
"Embers At Dusk," is where the journey arrives at discovery. The search, no matter how ominous, is justified in wonder. "Into The Black Mesa," is meant as venturing into another world or universe within a multiverse. Science aficionados and comic book fans are familiar with the concept. The track itself is maybe the most complex as it is the linchpin of the record. The guitar parts and Rhodes trade themes as if they are communicating with each other to unlock a secret. At the 5 minute mark, a tribal drum enters as to signify entering the new universe. The track ends with sweeping beeping.
Now, I admit that maybe my narrative gets a bit carried away but that's how I felt listening to Black Mesa. Given Porras's premise, along with the album's rich sounds and textures, this was my experience. Records like this, when done well (as this certainly was), become kind of a Choose Your Own Adventure. This was mine. You really should find yours.
Album comes out 4/17