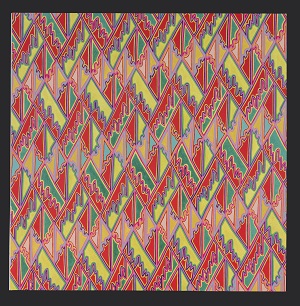 4 June 2015
Chicago's Joshua Abrams has been composing a combo of auspicious and equivocal musics for a long time. It's only been in the past five years or so that others have begun to take notice of his talent and rangeless music. Most plainly was with the release of the brilliant Natural Information on Eremite in 2010, which caught the ear of The New York Times and The Wire.
Since then, Abrams has stayed with Eremite, releasing Represencing in 2012 and now with his newest Magnetoception in 2015. Magnetoception is a fierce double LP of extended ensemble performances that include Abrams on guembri (a three stringed african lute), Emmett Kelly and Jeff Parker on guitars, Hamid Drake on drums/percussion and Lisa Alvarado on harmonium, among others.
The music Abrams creates on Magnetoception pulls from a multitude of genres and models including krautrock, free jazz, world/ancestral musics and minimalism. "Lore" snakes ambient textures round pulsing bass and percussion, "Translucent" takes african melodies to hypnotizing levels through beguiling repetition, and "The Ladder" gracefully combines all of Abrams' ideas of the traditional and the modern into one splendidly roaming piece.
Magnetoception is Earth music. It doesn't have a specific locale or grab from easily accessed niche genres. It is music that is living, persisting and actively developing: it's also one of the best albums of 2015.