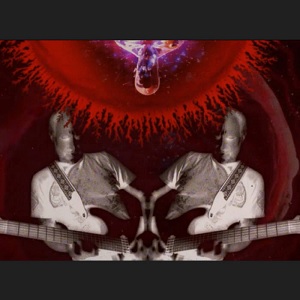 22 June 2023
King Analog is the alter ego of New York instrumentalist Joe Difonzo, and his debut self-titled album King Analog consistently shows off his virtuosity and ingenuity across seven adventurous tracks of metal fusion. Bridging the classic rock of Jimi Hendrix, the prog of Pink Floyd, and the heavy metal of Mastodon, the music is a thundering mix of riffs and psychedelic experimentation, but the proceedings never descend into pointless noodling, as every lick, every solo is in clear service to the song. With simplistic packaging and presentation, it seems that Difonzo's intent is less on presenting a mysterious or reclusive persona and more about placing the emphasis squarely on the music itself.
For an album with clear traces of prog running through it, Difonzo keeps the runtimes fairly tight and every part sounds absolutely necessary and integral to the structure of the songs. There's a real artistry to the way he will blend sounds and transitions from section to section. The opening track begins quietly with subtle hints of jazz, and before you know it it's a full-on face melting assault that could have found a comfortable home on early Queen albums. Elsewhere, he approaches fairly straightforward metal chugging on "Elixir" while on "Advent X," the delicate, echoing guitars sound like a sludgier, more stadium-friendly version of The Durutti Column.
King Analog remains compelling and exciting over the entire album, an often difficult feat for instrumentalists, and the artist emerges as a dynamically challenging force to be reckoned with right out of the gates.