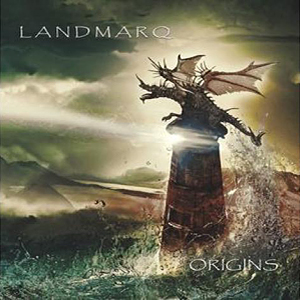 8 August 2014
English prog metal quintet Landmarq has spent the past twenty-five years producing distinctive and gripping work. Thus far, they've released two live albums, a live DVD, and five studio efforts, with their most recent, 2012's Entertaining Angels, earning unprecedented praise as the best LP of their career. Naturally, the time has come for them to release a 'Best of' compilation, and Origins fits the bill nicely. A lengthy (over two hours) and robust exploration into their past successes, the set is both a perfect retrospective for diehard fans and a stellar introduction for newcomers.
Like with many bands, the history of Landmarq is categorized by line-up changes; in this case, there is only one major divide: the departure of original vocalist Damian Wilson (who left in 1998 to pursue other ventures, including a solo career and a stints with Star One and Threshold) and the inclusion of his replacement, Tracy Hitchings. As you'd expect, this juxtaposition is the most interesting thing about Origins, as each singer gets his or her own disc (which makes for two sufficiently different listening experiences).
Honestly, "The Damian Years" is the more intriguing offering, with choice selections from Landmarq's first three records illustrating a powerful new act in the genre. It begins with "Killing Fields," a hypnotic tour-de-force in which Wilson roars with poeticism and urgency. Really, he sounds a lot like Robert Plant in his heyday. Meanwhile, the band complements him with simple yet seductive chord progressions, steadfast percussion, and a bit of virtuosic soloing. They central keyboard riff is especially enticing and dramatic, adding an effective layer of dread throughout. It's a fantastic way to start.
Next, "Forever Young" is more fanciful and colorful, with a playful arrangement that transforms wonderfully as it goes. The main melodic line is reinterpreted near the end (after a few minutes of awesome jamming). It's not very surprising that the piece feels like an early Ayreon track. Afterward, "Solitary Witness" and "Embrace" utilize acoustic instruments and sparser production (for the most part) to create affective ballads, while "Narovlya," at over ten minutes in duration, is likely the most ambitious song here, with plenty of dynamic changes and concrete movements generating a musical journey well worth taking.
"The Tracy Years" is slightly less riveting overall (mostly due to her voice sounding shrill and childish), but it's still an impressive collection. "Science of Consciousness" is a futuristic slice of foreboding narration, with sharp timbres and synthesized orchestration swaying around Hitchings' repetitious chants. The arrangement is solid for sure, but melodically it's not very engaging. The live version of "Between Sleeping and Dreaming," on the other hand, is very interesting, with a perfect buildup from poetic tranquility to passionate fury by the end. Like much of this disc, there's a classical feel to the structures, and that's definitely evident here.
Later on, "After I Died Somewhere" really does feel like a prog metal take on a lost Kate Bush lament, as Hitchings evokes Bush's fragile desperation and idiosyncratic delivery. "Heritage" is much more upbeat and feisty, though, with great energy, while "Turbulence (Paradigm Shift)" strikes a nice balance between serene songwriting and captivating, intricate musicianship. The collection ends with a new track, "Origins," and it's probably the standout entry here. From its spacey beginnings to its softer middle and wonderfully chaotic conclusion (including a nice bit of acoustic guitar playing), it's a thoroughly adventurous and vibrant affair. Considering that it's the most recent track they've recorded, it also gives listeners a glimpse into the future of Landmarq.
For all of its positive elements, the music of Landmarq (both past and present) does suffer from a few flaws, such as cheesy, dated production (think: '80s metal) and a definite lack of variety from song to song. As I've said about many similar musical excursions, if you've heard one or two songs from each LP, you've basically heard all there is to discover. They're quality players, songwriters, and singers, no doubt, but if there's one thing this anthology points out more than anything else, it's how much their aesthetic hasn't changed since 1991.
All in all, Origins is a fantastic retrospective on one of the genre's [undeservingly] lesser known acts. Theirs is a finely tuned sound that, while limited in terms of variability and experimentation, is masterfully performed nevertheless, and fans of the style (especially artists like District 97 and Kamelot) will surely find it appealing. Best of all, the deviations each singer brings to the mix makes for an intriguing duality, so if you happen to grow tired of one personality, you'll find the other one refreshing. Give it a go and see how you feel.