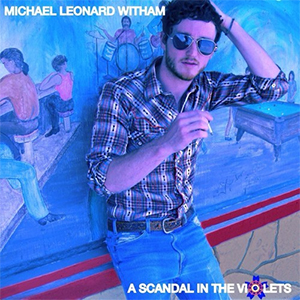 7 August 2014
Michael Leonard Witham is a songwriter out of Little Rock, Arkansas, and is getting ready to release his debut album, A Scandal in the Violets. Like a story from the book of Half Japanese, Witham began his life in music by finding a beaten up guitar in a dumpster one day not too long ago, and without any previous knowledge of how to play, he began to write songs, propelled solely upon a desire to make music. The production of A Scandal in the Violets is ragged yet warm and inviting like Bob Dylan's Blood on the Tracks.
Witham has a wonderfully vulnerable voice, resembling artists like Feargal Sharkey or a slightly more stable Daniel Johnston. It creaks, cracks, shivers, and quivers, but it's not just endearing, it's downright addicting. I said he sounded more stable than Johnston, but only slightly, mind you. Paired with his voice, his lyrics are beautifully strange, and, on songs like "Oh the Evil!," verging on the schizophrenic. Like Johnston, he often writes of personal defects, and an overhanging evil in the embodiment of a vaguely intangible yet still physical entity.
There's echoes of the obvious greats like Dylan and John Prine in his music, but unlike the hordes of copycats, Witham really sounds like the real deal. He's a musician's musician, and his music has the feeling of the kind of stuff future songwriters will be citing as a key influence, not unlike Dylan or Prine. It's impossible to tell what the future will hold, of course, but A Scandal in the Violets has all the makings of a classic album, and if not, the stepping stones towards a future masterpiece. The album will be released October 21st.