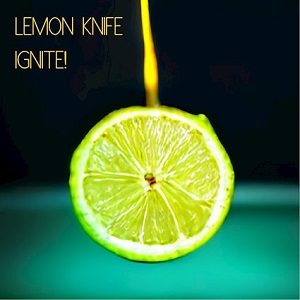 10 October 2023
Self-described as a "reverse White Stripes," Lemon Knife are a husband and wife duo from Chicago consisting of Mia Blixt-Shehan on guitars and John Retterer-Moore on drums. Their latest album, Ignite!, is a tribute to their wedding anniversary, but that doesn't stop them from writing about subjects such as astronomy and shark attacks. Although the band's style is rooted in punk and hard rock a la Queens of the Stone Age, they also proudly display their "nerd rock" badges, and with influences ranging from the B-52's to Warren Zevon, the duo seemingly welcomes in anything to their sound if it works.
The band don't shy away from thundering riff-heavy rock, but their lyrics are also remarkably literate and carefully constructed for the genre. There are plenty of pure hard rock assaults like "Grow Old in Maine" and "Escape Plan," but nothing is off-limits here. The band tackles prog alongside punk, two genres that rarely mix this well if ever, on songs like "The Harbor" and there's a post-punk dance energy to the infectious "Quarterly Pursuit." A real highlight here is the more melodic new wave of "Extremely Bizarre Love Triangle," a clear tribute to New Order, especially with Blixt-Shehan's Peter Hook inspired bass work.
Ignite! is an incendiary collection of tracks from these Chicago mainstays, and it just might be Lemon Knife's strongest outing yet.