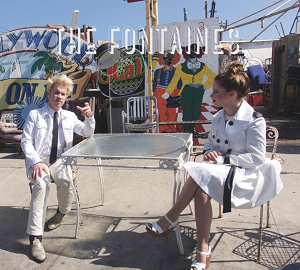 23 June 2016
With their 2015 eponymous debut EP, self-described New-Wop duo The Fontaines (guitarist Hank and vocalist Charlotte, who derived the name from a character in Jeffrey Eugenidies' The Virgin Suicides, among other famous Fontaines) established themselves as one of the most interesting brother-sister pairs in the industry. Accompanied by bassist/vocalist Jason DeMayo and drummer/vocalist Scott Zimmerman, the siblings cite Miles Davis, Beach House, and The Drifters as influences, adding that they want to make music that's "[not] easy to pin down . . . '[yet] swoon-worthy,' to have that indestructible sense of a song taking over your heart." Fortunately, they've prospered once again with II, a four-track EP whose amalgam of '50s-style romanticism, '70s-style punk edge, and '80s-style shimmering timbres creates quite an infectious and idiosyncratic experience.
"Cold" kickstarts the series with hyperactive percussion and spacey, manic guitar lines before giving way to a restrained rhythmic backdrop on which Charlotte's charmingly old-fashioned verses rest. The frenzy returns for the chorus, which, coupled with Charlotte's exuberant cheers, evokes the feeling of youthful and rebellious celebration. Halfway through, the instrumentation alternates a bit to allow a sparser environment, and the way the tones overlap again is quite interesting. All in all, it's a great opener, as well as a strong representation of what The Fontaines are all about.
Next up is " Handstand," a more straightforward and introspective rocker led by a thick bass line. Melodically, it's a bit reminiscent of The Decemberists' "Philomena" (from last year's What a Terrible World, What a Beautiful World), with a whimsical spirit and effective backing chants. Hank delivers a sharp guitar solo the near end, too, and the overarching shuffle beat makes it feel both vibrant and vintage. In contrast, "Please, Say Something" is very quiet and pensive, evoking the sorrowful elegance of Of Monsters and Men. Essentially, it finds Charlotte pleading for affection over a blanket of bittersweet guitar arpeggios, and while that may not sound as gripping as the prior two songs, it surely succeeds at demonstrating how diverse The Fontaines can be. In a way, it's the most engaging track of the bunch.
II concludes with "I Love You," a playful and multifaceted affair in which Charlotte channels classic No Doubt-era Gwen Stefani while a carnivalistic beat and fuzzy guitar riffs dance alongside her. It's easily the most colorful and fun song in the set (especially in the way Hank and DeMayo play off of each other, not to mention the animated lyricism), and it serves as the best possible send-off for the EP, which, like its predecessor, is a short but sweet mash-up of classic genres that oozes confidence and flair. Here, The Fontaines continue to prove their eccentric yet endearing potential and dedication, making their next effort highly anticipated.