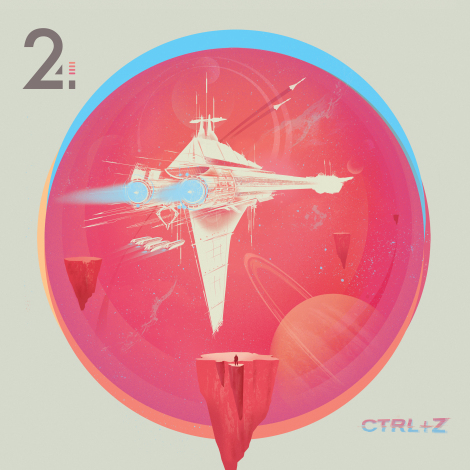 13 March 2017
As any computer-literate person knows, holding ctrl+z while typing undoes your previous action, so it's especially useful when you've deleted something by mistake and want to bring it back. It's fitting, then, that Californian indie rock quartet Life in 24 Frames uses that concept as the titular theme for its newest LP. Influenced by emotionally and texturally rich artists like Elliot Smith, Death Cab for Cutie, Fleet Foxes, Radiohead, Pink Floyd, Mewithoutyou, and the criminally unknown Neverending White Lights, the band's blend of "deep and thoughtful vocal arrangements on top of beautifully crafted hooky, yet complex and spacey musical arrangements" is subtle but quite moving, revealing new and engaging layers with each playthrough. In particular, Ctrl+Z flows like a dazzlingly seamless and meticulous exploration into the human condition, with each modest section culminating into a meaningful sum.
Life in 24 Frames describes its work as "personal brushstrokes on a shared canvas," with the hope that listeners will be able to put their unique backgrounds into their listening experiences. They also intend Ctrl+Z to take its audience "through deeply personal reflections of one very tumultuous year on Earth," which is why each track is named after a month. Aside from that, not much is officially said about the album. Although that's a bit frustrating (since it'd be nice to know what really inspired it), it also adds to its mystery and openness. You can really interpret the sequence however you want, and that makes it even more involving.
Naturally, "January (My Condition)" opens the record, and it does a great job of setting an appropriate vibe. Dreamy guitar chords, light percussion, and feedback create a suctioning backdrop on which vocalist Kris Adams' layers smooth and poignant laments like "If I should ever stray afar / Nothing could ever tear apart / The fabric of our hearts." There's a serene urgency to his performance, as well as the ways in which the drumming and dissonant ambience increase as the track progresses. It's both chilling and inviting, casting a universal sense of loss and longing that, regardless of what Life in 24 Frames itself is referencing, speaks to the human condition.
Acting as a sort of post-rock interlude, "February (Syndicated)" is a brief instrumental that extends its predecessors presences with a few more heartfelt layers, while "March (to the World, in Reverse)" feels like the proper next phase. It's a bit heavier and more nuanced than its predecessors, as faint acoustic guitar strums add to a dense and dynamic composition whose rhythmic and melodic shifts are hopelessly engaging. Without a doubt, "April (The System Fails)" offers one of the LP's catchiest choruses and most focused instrumentation, with shimmering guitarwork evocative of, say, The Smiths' Johnny Marr.
There's an old-fashioned sense of romanticism about "May (Down to the Nerve)," which scales back the rock music foundation for a more ethereal environment. Later, "July (Two Threes)" is relatively haunting, which acoustic guitar arpeggios and morose strings following Adams' every poetic prophecy, whereas "September (Months Like These)" finds bassist Jason Brown confidently leading the charge. As its title suggests, "November (Heartbeats)" is among the most touching songs here, with a fast pace, thick harmonies, and stirring lyrics yielding an affective composite. Luckily, "December (Swan Song)" settles the journey with an air of tragic optimism in the vein of Radiohead's brilliant "Videotape." It feels expressly vintage, too, with a synthesis of steadfast drumming and synth coatings that feel plucked from the 80s. Also, the folksy break in the middle is a nice touch, as it adds more variety to the structure and allows Adams to really show off his range. It's a tenderly hopeful and bittersweet conclusion.
Ctrl+Z is one of those special albums that goes beyond being just a collection of songs; rather, it's an impactful and continuous voyage into beauty, tragedy, and everything in-between. Sure, it's not especially innovative or intricate in any way, yet it achieves something wholly singular by maintaining a concentrated aesthetic. Even its short intervals (such as "August (Waiting for)" and "October (One, Too Far Gone)"), despite being mere soundscapes, work wonders as the connective tissues that keep the passage going. It's the perfect soundtrack for a lengthy and quiet introspective trip, and Life in 24 Frames deserves all the acclaim it can get for it.