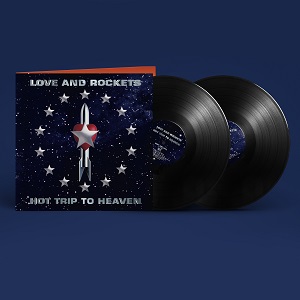 9 June 2023
Beggars Banquet continues its vinyl reissue series for Love and Rockets with round two: a pair of LPs that never quite found the cache of their predecessors. Following a break for a creative refresh (and several solo albums), guitarist Daniel Ash, bassist David J, and drummer Kevin Haskins reconvened for a pair of albums that have slipped below the fold in the band's discography – not selling a lot of records and being generally overlooked by fans. That's too bad, as both 1994's Hot Trip to Heaven and 1996's Sweet F.A. were a return to pre-hit single heights of creativity, as the band continued its love affair with diverse approaches to psych rock, including a few new wrinkles.
L and R's fifth LP, Hot Trip to Heaven utilitzes the lessons they learned in their time away (particularly flirtations with electronica), and venture farther afield from what was perceived as their core sound than fans of "So Alive" and "No New Tale to Tell" probably expected. The band's clear intention not to repeat themselves manifests immediately in opener "Body and Soul Parts 1 & 2," a nearly fifteen minute long track that melds guitar, hip-hop accents, chill-out dance, and kosmiche synth waves for a mesmerizing and fresh take on the L and R psychedelic sensibility. An aura of clubland decadence hangs over some of the songs without becoming the dominant force – if the noise- and beat-heavy title track fronts an aggressive, out-all-night swagger, "No Worries," with its repetitive bassline, sampled drone licks, and gentle acid-bath melody, represents the more mature morning afterward. Nodding to a world music influence, Transglobal Underground's Natacha Atlas adds her distinctive wail to "Ugly" and "Trip and Glide" to enchanting effect, practically becoming a fourth band member. "Be the Revolution" layers Ash's singular fuzz guitar into an otherwise groove-driven atmopop tune just as a reminder that the old tools still fit in the box. As much fun as the trio has twisting and distorting its creative intentions, the band still holds to its psychedelic pop 'n' roll core. No matter how experimental Hot Trip to Heaven gets, it always sounds like no one but Love and Rockets, making this one of the hidden gems in the band's catalog.
Whether by design or coincidence, Sweet F.A. saw a return to L&R's love affair with the guitar. Recorded under trying circumstances (the house in which the band were staying during recording burned down, taking their gear with it), the record puts the band's signature mix of acid pop melodies, fuzzy electrics, and lush acoustics at the front of the mix. Languid rhythms, unexpected jolts of electricity, and a smoky, 3 a.m. atmosphere give the mid-LP trilogy "Sad and Beautiful," "Shelf Life," and "Natacha" an inherently trippy, almost subversively psychedelic vibe. The instantly appealing "Sweet Lover Hangover" encapsulates the trio's patented blend of glam, psych, and pop with practiced ease, while "Pearl" and the title track remind fans how enchanting acoustic music can be in L and R's hands. The beguiling "Fever" simply rolls all of Love and Rockets' old school assets into one ball of rock & roll delight. But while the record may seem like a retrenchment from the commercially (but not artistically) moribund Hot Trip to Heaven, the band hasn't abandoned the lessons they learned. "Words of a Fool" and "Use Me" revisit the shuffling trip-hop beats of the prior LP, just with more guitars, while "Here Comes the Comedown" is arguably more danceable than anything on the dance-inflected Hot Trip. The industrial rock-fueled closer "Spiked" sounds like nothing the band's ever done before. Feeling more like a revival than a retreat, Sweet F.A. consolidates Love and Rockets' strengths and summarizes their decade-plus journey quite nicely.
As it happens, the tracks that ended up on Sweet F.A. weren't the only ones recorded. Some of these cuts leaked out on the The Glittering Darkness E.P., but many have gone unheard. That changes with the long-awaited release of My Dark Twin: The Sweet F.A. Sessions. Gathering up alternate versions, outtakes, and studio jams, the two-CD set paints a colorful picture of Love and Rockets firing on all creative cylinders during this period, despite setbacks like the studio fire. Early takes on key F.A. tracks like "Words of a Fool," "The Fever," and "Shelf Life" on Disk 1 show a groovier original vision, though the essential soul of the songs remains intact. The original version of "Pearl" is, if anything, superior to the final release. Meanwhile, the funky acoustic pop of "Bomber's Moon," psych-tinged folk of "Returning," and the droll dance shake of"That's Progress" on Disk 1, and the moody dub of "Pick Yourself Up," expansive dark psych of "The Glittering Darkness," and snide country rock of "California (Have a Nice Apocalypse)" on Disk 2 indicate space was a concern far more than quality when decisions needed to be made. That's especially obvious in the case of "Ritual Radio" and "U.O. Me," a pair of self-indulgent but entertaining jams that clock in at eighteen-and-a-half and nearly sixteen minutes respectively, and a loose, off the cuff take on Mink DeVille's "Spanish Stroll." My Dark Twin is as consistently entertaining and illuminating as any of the band's primary albums.
Love and Rockets would make one more album, 1998's Lift (not on Beggars, and so exempt from this reissue series) before splintering. But the catalog the trio left behind is as imaginative, accessible, and substantial as any amongst their peers, and the work on these records not only holds up, but sounds even better now than it did when first released.