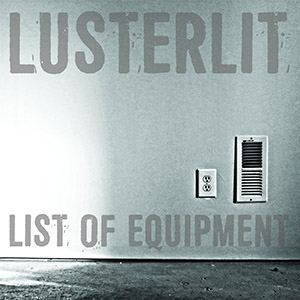 8 September 2017
Literature has been an inspiration for many musicians and bands. Susan Hwang and Charlie Nieland of Lusterlit have taken that to a honest and dreamlike place, on their new e.p., List of Equipment.
With the opening song, "Ceremony", which is inspired by Blood Meridian by Cormac McCarthy, it is obvious that Lusterlit have no problem capturing the inevitable moments of absurdist dread contained in the last moments in the book. I found myself drawn in with the slow and powerful sounds that are reminiscent from the band, Low. On the other end of the spectrum, we have "List of Equipment", a song that comes from the book, Mastering the Art of French Cooking by Julia Child. Within the playful percussion and boldness of the piano, Nelson Riddle and Vic Mizzy would be proud.
List of Equipment is not only inspired by other books, like Fortress of Solitude by Jonathan Lethem or The Day of The Triffids, by John Wyndham, but the songs are illustrations that translate the thoughts and emotions of the characters within the pages. Lyrically and musically, every song integrates the author's voice as well as their own. Love for the written word is an understatement when it comes to Lusterlit.
Official Site
Facebook
Twitter
Instagram
Bandcamp
Soundcloud