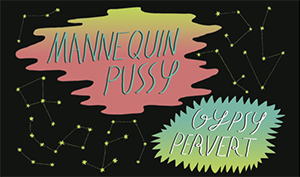 18 December 2013
Mannequin Pussy has been around for a few years now, but with the addition of Drew Adler (drums) to the original lineup of Marisa DaBeast (singer/guitarist) and Thanasi Paul (guitar, after switching over from drums) their sound truly came together and they have become one of the best bands to come from New York in years. I had previously thought the scene had a reached a standstill—a result of a dominating clique of musicians from five to seven bands homogenizing and inbreeding to the point of banality—but Mannequin Pussy might just be the key to revitalizing music in New York again.
After releasing a few EPs, the band has just released their debut full-length tape, Gypsy Pervert, on Rarebit Records. There is a great bi-polarity to their music. Often loud and abrasive, the songs are simultaneously beautiful, romantic, and ridiculously catchy. "My Baby (Axe Nice)" is only a minute long, and yet it has a brilliantly addictive and hummable melody. Even when relatively softer, such as "Meatslave 2," the band still sounds like you're listening to a recorded panic attack unfolding live. In less than twenty minutes, Mannequin Pussy has created a genuinely exciting and gutturally intelligent album.
There's a rare urgency to their music, as if they don't just want to play these songs but they need to. Every chord, every fill, every inflection; it all rings of fatalistic necessity, and it makes for one of the purest records to come out in years. There's an invisible force propelling the band to play with a conviction that can't be faked and Gypsy Pervert plays like a cathartic release. In an interview with The Le Sigh Dabeast says, "Too many people make music because they can but I was making music because I had to." It's this unstoppable force that makes Mannequin Pussy and their music so compelling. For anyone currently or ever in a similar boat, this record is the greatest comfort.
Gypsy Pervert can be a difficult album to listen to, but that's part of the reason it's so great. It's an album to live with. Some of the greatest artistic statements ever achieved— Nirvana's performance on MTV Unplugged for instance—can also be extremely challenging to listen to, tear you apart immediately, and make an emotional wreck out of you. Mannequin Pussy have the same knack as Nirvana did for pairing a great pop hook with extreme dissonance, but whether confrontational or withdrawn the lyrics are often so inherently honest, Gypsy Pervert will easily hit upon a raw nerve and act as comfort for any similarly-hurt/endlessly-hopeless romantic.
DaBeast's effortless sense of melody and her ability to perfectly fit her vocals to every situation, whether gently plaintive or aggressively purgative; Drew's unrelenting and skilled yet purely emotive drumming; and the hypnotic weaving of Paul and Dabeast's guitars make for a chemistry impossible to fake. Gypsy Pervert not only sounds natural and beautifully laid-bare for everyone, it rings of a purity almost unheard of today. Mannequin Pussy is the reason to be excited about music not only coming out of NYC, but anywhere.
This album is such a beautiful, unforgiving, and unparalleled experience unlike anything else being made today, and easily makes for one of the year's top albums. (Every song on Gypsy Pervert is a hit, but highlights have to be "My Baby (Axe Nice)," "Meatslave 2," "Piss Drinker," and "Sheet City.")
comments powered by