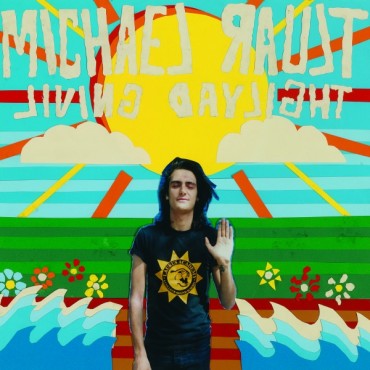 5 May 2015
Over the course of the last few years, there has been a largely under-covered, but fucking delicious movement within the indie scene towards incorporating the boot shaking swagger of glam rock groups like T. Rex. Artists like Rathborne, Light Heat, Danielle Duval, Kuzin, and most recently American Wrestlers have incorporated Marc Bolan's pixie shake lyrical style into their own sound. The result has been extremely successful, reinvigorating a sometimes dreary landscape of overwrought bedroom projects from aloof 'geniuses' that seem to spend more time crafting their origin story than writing songs. This grouping stands as an all-important reminder that rock music is supposed to be more about having fun than finding the crossroads between truth and beauty, or some such other pile of meaningless drivel. Even more important, they are proving that fun music can also be more interesting than the garbage you'll hear on mainstream pop radio. With his newest release, Living Daylight, Michael Rault places himself staunchly into that group.
Edmonton-bred, Toronto-based singer/songwriter/multi-instrumentalist Michael Rault began his career in the mid-2000s, releasing a series of self-produced CD-Rs in Alberta. With a reputation for classic, retro-inspired songcraft, he was eventually signed to Sony Canada imprint Pirates Blend, which released his debut, Ma-Me-O, in 2010. After relocating to Toronto in 2012, Rault followed up with the Whirlpool EP, a seven-song collection that culled more from Nuggets-era garage rock than his previous 50's-inspired work. He became increasingly involved with other eccentric notables from the Toronto indie scene like Young Guv and Slim Twig, whose band Rault also played in. As he continued to develop his blend of psych, garage, retro R&B, and oddball guitar rock, he attracted the attention of California's Burger Records, which released his Still Not Sad/Nothing Means Nothing single in 2014. For those of us that still pay attention to that sort of thing, Burger has really set itself up over the last few years as the type of outfit you pay attention to with each new release. Just over the last two years, they've brought some of my favorite albums to light from artists like Sarah Bethe Nelson, Danny James, and Mozes and the Firstborn. This is a stable that Rault fits into quiet nicely.
Where Living Daylight steps away from the other glam-inspired artists mentioned earlier is the seamless way he plays with even older genres. Rault moves easily from Wilson Pickett soul ("All Alone (On My Own)"), Syd Barrett-era Pink Floyd psychedelia ("Dancing With Tears In My Eyes"), Humble Pie blues rock ("Real Love (Yeah)"), Tommy James boardwalk balladry ("Lovers Lie"), Muddy Waters electric Delta blues ("Hiding From A Heartbreak"), and old school Bo Diddley rock n' roll ("I Wanna Love You"). Rault holds everything together with that Bolan-esque vocal and a lo-fi production sheen. Typically, I find lo-fi filters to be an atrocious distraction, but it actually does a lot to help pull Living Daylight together into a single piece and add to the feeling that what you are hearing is somehow lost in time, like an album that was just pulled out of a whacky time capsule.
Of course, the main theme holding Rault's work together is that everything on Living Daylight is pure rock n' roll fun (even if being a "Suckcess" ain't). No matter the time of day or mood, I challenge anyone to put this record on and not shake their ass just a little bit. I've tried and failed miserably and, in the course, subjected more than a few co-workers to something akin to a drunken Irish jig. It is clear that Rault really enjoys making music right now, and that transfers through in the songs. Fun is his secret weapon. If more artists were enjoying themselves this much, the world would be a much happier place. That alone makes Living Daylight an easy recommendation for new listening.