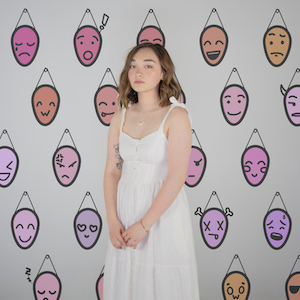 26 September 2019
Crippling self-doubt has rarely been portrayed as beautifully as it is on the endearing first album from Oakland's mxmtoon, aka Maia. Although The Masquerade marks her debut longplayer, the Chinese-American teenager has been an online star for a while now, thanks to YouTube videos of her low-fi bedroom pop.
Whatever its origins, The Masquerade is something bigger and better. Bright-sounding and professionally executed, if still low-key, it plays like a single anguished monologue, in which mxmtoon examines her own shortcomings with unsparing candor and addresses lovers who have moved on, insisting, "I've learned to be ok on my own," without excess conviction.
Mxmtoon's gentle vocals, entrancing melodies and understated arrangements, featuring keyboards, ukulele and guitar, place her desperate emotions in a soothing setting, suggesting someone doing her best to stay on an even keel. On "Prom Dress," she admits, "I can't ever seem to try and ask for help," adding, "I'd be the prom queen, if crying was a contest," while "Suffice" finds her musing sweetly, "I have only loved without confession/I'd rather settle for a never-ending stream of self-questioning." You get the idea.
It's a testimony to Mxmtoon's quiet charisma that these dire sentiments feel less like a cry for help than a casual sharing of everyday thoughts. Still, The Masquerade will leave you wanting to give her a reassuring hug before playing it again.