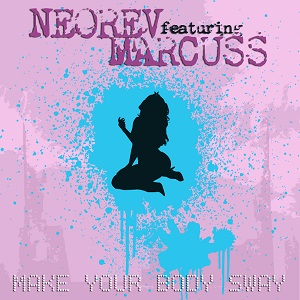 6 February 2014
The world's best underground electronic artist triumphantly returns yet again, this time adding hip-hop to his repertoire.
Right away, "Sway" opens with a hard-hitting, heavy beat augmented by a myriad of sounds and Marcuss from Dope Tendencies rapping about the bass. It's a powerful statement that Michael Matteo, aka Neorev, can attack hip-hop with as much energy as everything else he's done and still be ready action long the party has passed out. Marcuss continues on "So Twisted," a skulking, Southern-style celebration of marijuana. Rapper Centri takes over on "Get 'Em," which explodes with the bombastic quality of Dr. Dre collaborating with The Bomb Squad, though things relax a bit on "Terrible Sky," a dark, sinister dubstep-ish collaboration with female vocalist "It Was July" that evokes all the speed-induced paranoia of cyberpunk. Two instrumentals, "Here Comes The Pain" and "Disrupt The Scene" round out the release with the thoughtful, subversive electronica that has become Neorev's staple.
As to be expected, a slew of remixes from the likes of Aquila, Dope Tendencies, Jericho-X and Thermonuclearity add to the EP, making it more of a full-length album, though an official download garners instrumental versions of the songs, as well as even more remixes. At the staggering price of FREE, it's well worth the megabytes.
Fortunately, Neorev shows no signs of slowing down or getting lazy. Instead, he's defiantly releasing music in the face of the ignorant music industry. More power to him: May many more come.