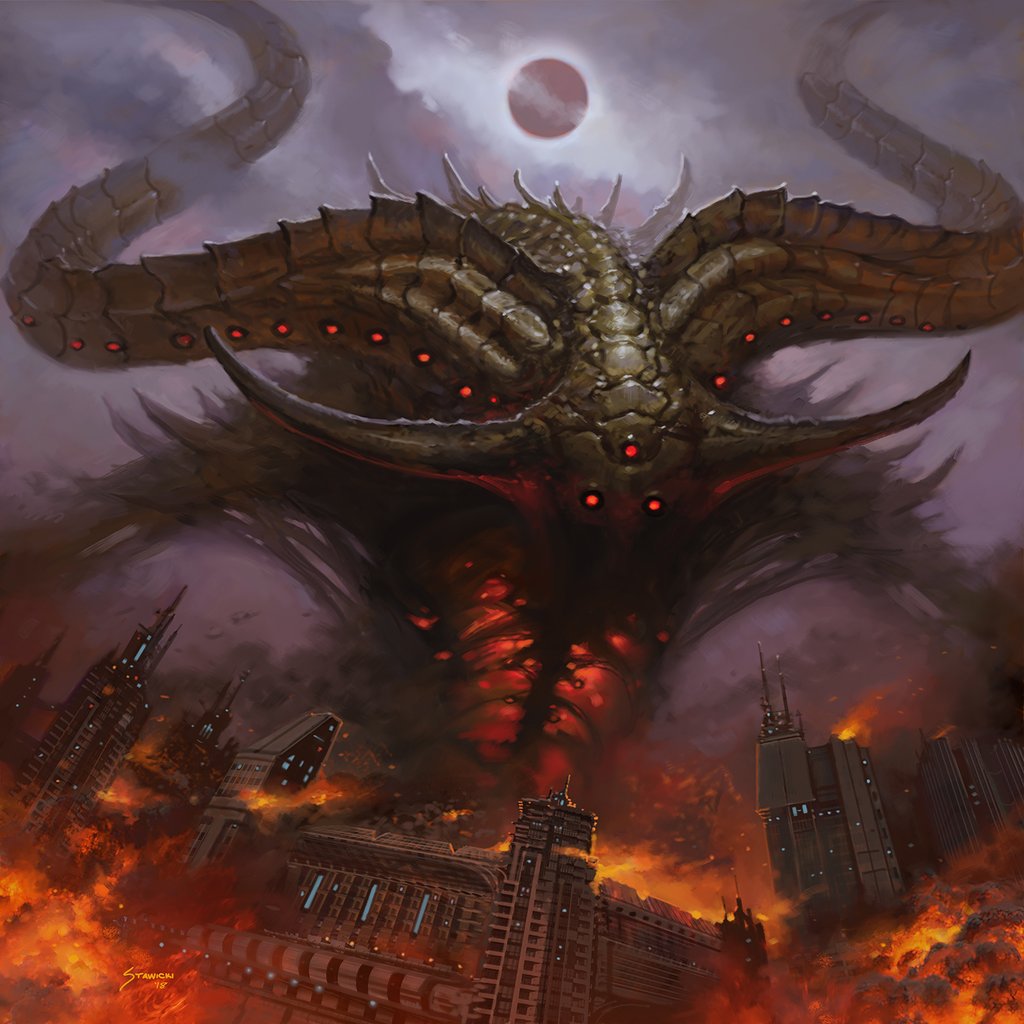 27 August 2018
It's nuts to think that this is the third John Dwyer -led LP I've covered in my nearly two years spent writing for Big Takeover. For one thing, it makes my job difficult in finding new ways to describe him in such a short amount of time, but the man is a natural born ringleader for garage and psych, having pressed myriad records for these genres and all those adjacent through either his mainstay act Oh Sees, any of his numerous side projects, or by the grace of his label Castle Face Records and their own impressive roster. Smote Reverser is his band's latest, and while its name follows Dwyer's Dungeons & Dragons style of labeling, it may also come packaged with a knowing wink, as the lineup last seen on Orc —that is, the album before last—hath returned. Yes, there are delineations to be made as to where the lines between OCS and Oh Sees and Thee Oh Sees et al become blurred; but for the sake of Dwyer alone, the reverse seems to have returned ironically unscathed.
Managing the Dwyer playbook can be hard, but in brief: this is the revolving collective's fourth release with the two-drummer setup and second of those four with the same two drummers involved. The move to add a second drummer to the mix was a wise one, adding more mass to the sound when needed and thicker texture all around. Former labelmates and fellow garage stalwarts The Dirtbombs have reaped the double-percussion benefits for years prior, and Oh Sees similarly allow it to compliment and fuel their gargantuan presence without letting it claim their identity. Paul Quattrone and Dan Rincon thump away at their kits in awe-inspiring synchronization with occasional solo flourishes, mixed closer to the center here than on Orc where they were noticeably sequestered to the left and right. "Anthemic Aggressor" demonstrates their tremendous focus, churning out twelve minutes of a downright funky 7/8 groove whilst Dwyer noodles his away throughout the marathon. The scratchy vocal effects tend to muddle the counterparts on "Overthrown," but it's one of their straightforward heaviest numbers to date and the quasi-speed metal tempo set by Quattrone and Rincon harkens back to the power duo of Dale Crover and Coady Willis during Melvins' team-up with Big Business.
At a flat hour, Dwyer has plenty of creative room to breathe. Given that the majority of Oh Sees' recent compositions arise from jams, he's grown quite ardent in his variation of selections from his arsenal. "Overthrown" finds his guitar screeching for salvation and distorted to the brink of insanity. In its final minute, his solos appear in frenetic bursts interrupted by low drone loops, suggesting that his axe has flatlined. "Enrique El Cobrador" and "Beat Quest" display his ongoing and welcome love affair with the electric organ, sheening a silly but efficacious rock regality to his expeditions. The perpetual open studio door for Brigid Dawson's vocal contributions sees her entering the booth once again, and on the one-two punch of "Last Peace" and "Moon Bog," her sparseness not only keeps things interesting but stokes nostalgia's fire as well with the reliable constant of her ever-appropriate harmonizing interlock. Dwyer's chemistry with bassist Tim Hellman has steadily improved as projected, particularly on "C." The hell raised by Dwyer grants opportunities abound for melodic collaboration, and Hellman upends this onslaught, intermittently abandoning his post at backbone for climes more ambitious and rhythmically rewarding.
If for whatever reason you thought they'd slip up on their twenty-first record, what can I say: you're wrong, kid. Oh Sees remain confounding in their pace and dependability, and I'm sure I'll be writing about their next release in no time.
You may purchase the record here.