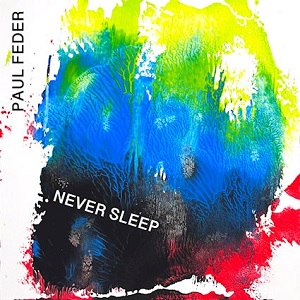 16 June 2023
Brooklyn-based electronic musician Paul Feder has returned with three more songs on his new EP, Never Sleep. It's a follow up to his previous release, Nightwalk, and there seems to be both an evolution and a continuity between the two EPs as Feder continues to explore his signature synthpop style that toys with ambient elements. With a modern spin on an '80s inflected sound, the EP calls to mind groups like Chvrches and The Postal Service. The songs are dedicated to his father Jack Feder who passed away last year, and whether it's a coincidence or not, there is a pensive quality here as the artist considers questions of mortality and nostalgia.
The songs were written on his vintage 90s Yamaha CS2X, but ostensibly there has been a giant leap forward from demo to final product for the results are densely layered and complexly structured with a larger than life arena sensibility that is reminiscent of late 80s Depeche Mode. This is most evident on the opening track "Never Sleep," a hymn to insomnia that builds brilliantly to an emotional climax. "Home" is another track that could have escalated to an anthem, but Feder keeps it fairly lowkey and moody, his ambient influences shining through here. The closing track "Wonderful Day" muses openly on mortality and "the end of the line" but it's the most uplifting and optimistic song about death that you are likely ever to hear.
Never Sleep is a fantastic expansion of Feder's sound, offering a more vulnerable, introspective side of the artist, and it's set to be released June 23rd.