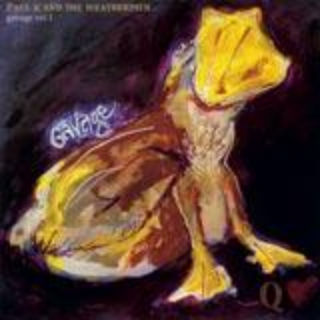 19 July 2010
Gavage is French for "to gorge," though in the States it refers to a method of force-feeding someone with a tube. The former meaning is most reflected in the title of these CDs, the latest from the Detroit-spawned, Kentucky-based Paul K & the Weathermen. Both a traditionalist and a restless soul, Paul Kopasz is an artist of enormous intelligence and keen insight, and he assumes his audience will understand his references and take his meaning. The title is an invitation to gorge on the 26 songs spread across two volumes (with a third reportedly on the way), which represent just a fraction of the coterie of strong albums he's recorded and released in the past quarter of a century. (See The Blue Sun, Love is a Gas, Achilles Heel, A Wilderness of Mirrors and Panopticon, a 3-disk set, for corroboration.) Diehards and adventurous listeners, of course, accept this feeding tube willingly.
Vol. I is dominated by acoustic guitars and mid-tempo balladry, with low-key arrangements supporting Kopasz's biting ache of a voice. There's a dearth of the rock anthems at which he's so adept, but even at his quietest Kopasz is compelling. His keen intelligence drives the incisive metaphors of "Walking Backwards" and "A Storm in Every Port" without beating us over the head with brainpower. The winsome "Keep It In Your Heart" and the widescreen "Quicksand" court and win accessibility, becoming the kind of tunes Kopasz'll likely include in his sets for the rest of his career. Oddly, three of the strongest cuts appear as bonus tracks – the stripped-down, lo-fi atmosphere of "Every Time I Turn I See Your Face," "Everything's Alright" and "You Never Know Just What You're In For" may have kept them off the official set list, but they're easily as powerful as everything else on the record. Kopasz fills out the album with an assortment of eclectic covers, from the Kinks' "Afternoon Tea" to Marianne Faithful's "Running For Our Lives" and Nick Lowe's "(What's So Funny 'Bout) Peace, Love and Understanding," all of which fit right in with his aesthetic vision. Gavage Vol. I continues the proud Weathermen tradition of understated brilliance.
Gavage Vol. II (the song titles of which aren't included, though clues are given for the crossword puzzle in the liner notes, so the notations below are just guesses) is considerably weirder, but no less compelling. "Notice Me" (cut 3) nearly buries its critique of instant online communication under the white noise of overlapping voices, making its point with the arrangement as much as the lyrics. "Pills & Coca-Cola" (cut 5) plays the blues on nothing but harp and a bass guitar. "Who Knows" (cut 2) soaks in fuzz so thick it would unsettle a furry, though it rocks furiously through its sardonic comment on nostalgia. The sixth track ("Waterside," maybe, or "You're Gonna Wind Up Where You Started From") sets its advice in a percussionless tangle of guitars. "It Happens All the Time" (cut 1), the brief "The Light Goes Out of His Eyes" (cut 9) and "Wait Around and Die" (a bonus track that's sort of an answer to Townes Van Zandt's "Waiting Round to Die") travel folkier, less thorny roads, though Kopasz's lyrics never make it easy. Recorded quickly and cheaply but with a vivid imagination, the collection baldly reflects his characters' unhinged states of mind. Vol. II is more difficult than Vol. I, but that's a good thing. You may work harder, but you'll be just as rewarded.
For information on Gavage Vol. I & II, contact Paul K at pontiff43@yahoo.com or 14893 Southfork Church Rd, Verona, KY 41092.