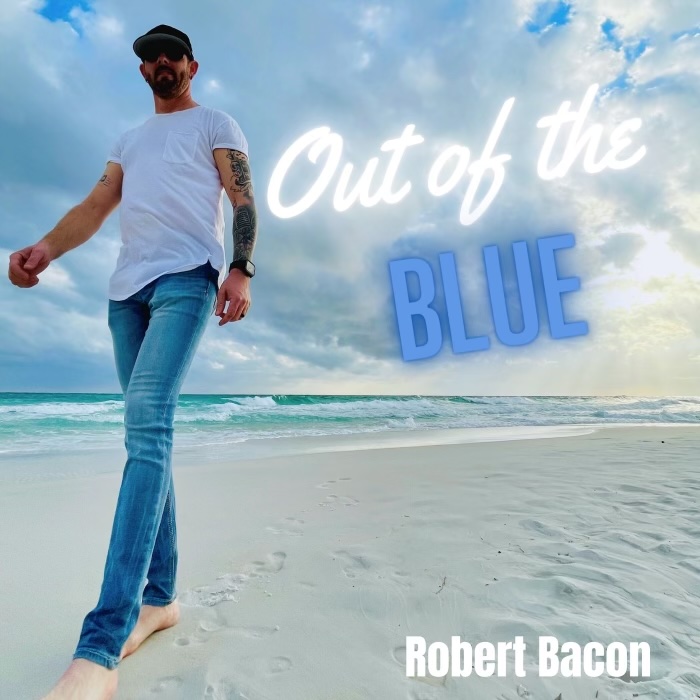 18 November 2023
Robert Bacon's latest sonic offering, "Out of the Blue," is a wild ride through the hinterlands of the country, a raucous tour through the realms of rock, and a full-throttle groove machine. Picture this: the swagger and twang of the country getting cozy with the unbridled drive and heft of rock 'n' roll, and you've got yourself one heck of a good song.
It's the infectious mojo of this tune that'll have you hooked. No matter what your preferred musical style is, this song runs roughshod over musical demarcations and generic boundaries just because of how addictive it is. It's got these spiralling riffs and nimble guitar gymnastics that, despite their intricacy, turn out to be the most addictively straightforward ear candy you've treated yourself to all year. Bacon knows just when to keep it simple and when to toss in an extra dash of complexity. It's a skill, and he's got it in spades.
And can we talk about the finesse on display here? The arrangements are smoother than a well-oiled engine, and the composition? Pure charm, my friends. The way those guitar riffs dance a deft tango with the lyrics is beautiful. The vocals? Confidence and razor-sharp delivery, my friends. The drums and backbeat? They're the pulsing heart, grounding the tune while propelling it forward. No frills, no unnecessary grandstanding—everyone and everything there to serve the song. That's the way the cookie crumbles, and it's a damn tasty cookie.
If country music is your thing, this is for you. More of a rock person; there is plenty here for you to love. Alt-country? Check! Americana? Yes, siree. Pop? Well, of course, you wouldn't label such a song pop, but if pop's hallmarks are infectiousness, groove, beat, and energy, then maybe that needs to change. Pop with a PhD, a ton of groove and a lust for life? Okay!
Website
Facebook
Twitter
YouTube