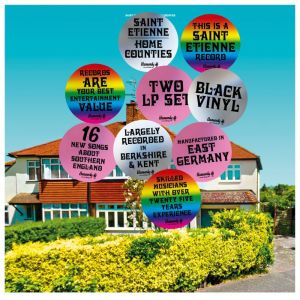 2 June 2017
Saint Etienne, the quintessentially British band with the French city name, has returned for a leisurely, but keenly observed stroll through the English suburbs on its new album Home Counties. The LP arrives in the shires today via Heavenly Recordings and it's a 19-track-packed ode to the faded golden memories of an older Britain of the past 40 years or so.
When crafting Home Counties, Sarah Cracknell, Bob Stanley, and Pete Wiggs were influenced by their youth spent in the suburban neighborhoods of Windsor (Cracknell) and Surrey (Stanley and Wiggs). They collaborated with multi-instrumentalist Shawn Lee and the foursome deliver proper, finely-tuned, retro-inflected indie pop songs that reflect upon the respectable 'burbs of England while sometimes incorporating other styles into their refined, vintage-tinted sound.
Story-telling lyrics flow through a majority of the tracks which are bolstered by Cracknell's charming, creamed honey vocals, hushed synths diffusion, bright harpsichord chime, delicate woodwinds drift, wavering organ, plunked piano notes, and/or subdued to crisp beats.
Wistful reminisces like being, "Always young and free / underneath the apple tree." mark the buoyant "Underneath The Apple Tree", which pumps pleasantly along with alternately fat and brassy horns. The protagonist worker of "Wyteleafe" is, "…longing for the recent past." while moving from "station to station", thinking of his "municipal dream." Pining woodwinds open "Train Drivers In Eyeliner", where Cracknell advocates for, "…train drivers all over this land / That's our plan."
Like the suburbs, Home Counties is an amiable amble through a well-manicured sprawl of sonic architecture containing mild moods and memories and reflective emotions and experiences that needs a receptive listener/onlooker who is sympathetic to these gentle and genteel environs. As Stanley states in the album's press release about suburbia, "They said it couldn't happen here – and it didn't." This benign attitude exudes from many tunes and in the main there's a distinct lack of cheeky esprit and peppy joie de vivre, and lively pace, that lifts up Saint Etienne classics like "Join Our Club", "You're In A Bad Way", "Hug My Soul", and "Lose That Girl." The rousing dancefloor thumper "Dive" and verdant "Underneath The Apple Tree" are noticeable exceptions.
That being said, as of chronicle of life in the idealized suburbs of England, the familiar, cohesive theme of Home Counties does fit snuggly into the band's traditional British music repertoire. Brief intermissions divide the county lines (well, the songs) and includes British pop quiz and sports announcers speaking, angelic church choir glow, and spoken word from Cracknell.
Album highlights come from the songs or segments that stand out stylistically from the pack. Escapist and up-tempo club number "Dive" plunges into fun '70s disco-tropicalia, while "Whyteleafe" opens with baroque harpsichord plucks. An emotionally delicate, yet calm Cracknell airily yearns on the instrumentally unobtrusive "After Hebden" and engages with her silky vocal delivery on the verses of "Take It All In."
Black sheep lead single "Heather" is a gem, reveling in its twisty, dark pop sonics, edgy lyrics, and Cracknell's velvety, whispered vocals. Like the song's words, Saint Etienne is "still taking chances", albeit rarely these days. Mid-paced second single "Magpie Eyes" delves into bass-driven synth-pop, but relies too much on its languid, repeated chorus.
"What Kind Of World", the last vocals-based composition on Home Counties, is a synth-strings-dipped, restlessly rhythmic, and lyrically relevant post-Brexit rumination, where Cracknell reveals with heathery disillusion that, "This is our home / but I don't feel at home tonight."
Shaken percussion, kinetic drum strikes, cymbal shimmer, and sweet backing vocals belie the bleak lyrics of the chorus as Cracknell crestfallenly sighs, "What kind of world is this? / I feel like packing it all in / Let's find another country / A better one." These timely words seem to be a nod to the cultural turmoil of the present, and not that of a beloved, bygone era.
Order Home Counties
Official Site
Facebook
Twitter