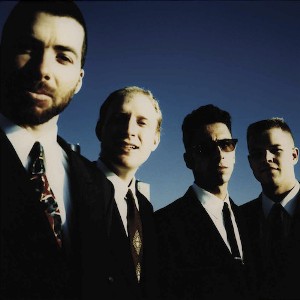 25 May 2014
Silkworm are an anachronism. Yes, they were active during the rise of indie rock and shared the stage with what many now consider 'classic' bands, but they never reached the status of their peers. Maybe they were absent the day the roles were being handed out or more probable, they were just happy in their own space reaching for what was internally attainable.
Regardless, in 1994, hot on the heels of In The West, the band's original lineup consisting of Andy Cohen, Joel RL Phelps, Tim Midgett, and Michael Dahlquist, went in the studio for 3 days with engineer, Steve Albini, to make Libertine. What came out of those sessions is a collection of songs that continue to define a band with indefinable qualities. "Grotto of Miracles" is led by a bare bass line, muttered vocals, and stuttering drums. The guitar leads spike out of the speakers at appropriate times channeling the spirit of Crazy Horse while at the same time smearing the ashes of 70's rock all over the floors and walls. "Cotton Girl" urges you to turn the sh*t up with a wrecked riff that makes other bands of the time period sound like high school talent show schlock. "Couldn't You Wait" could be one of the greatest anthems from indie rock's heyday. Midgett's bass builds under repeated guitar wails while the singer tells you secrets you wish you knew so you could have finally quit your job and started working on your masterpiece. "Written on the Wind" is the closest the band gets to "Knockin' on Heavens Door." A slow jam that combines power and heartbreak and pairs it with what may be the LP's overall theme – confusion. The band holds nothing back on "Wild in my Day," tossing out lines like "It's all worth about nothing plus nothing/I know you been holding back again," while guitars cross lines to create a riff that could make Superchunk blush. The reissue, lovingly assembled by Comedy Minus One, also contains acoustic performances of some Libertine hits recorded a few months before the album's sessions on Seattle's KNDD, previously released as the Marco Collins Sessions.
It seems the speakers of the stereo can barely contain these songs at times, making Libertine a truly powerful and important document not just for Silkworm but also for first wave indie rock.