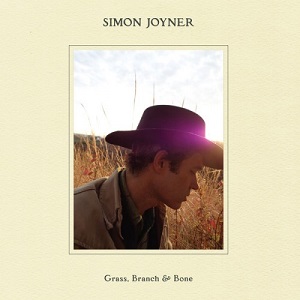 17 March 2015
Simon Joyner is on this writer's short list of true songwriting geniuses living on this planet. He's been releasing records since 1992, each of them ingenious and deep as a well. His last, Ghosts, found his characters traveling dense routes and inhabiting dark corners. His newest Grass, Branch & Bone, adversely finds Joyner basking in light; sometimes faint and sometimes lustrous.
"Train to Crazy Horse" comes early and is one of Joyner's finest works. It recalls many now classic albums that Joyner carries under his wing (Lost with the Lights On, The Lousy Dance). The arrangement is elegant and its laden lyrics don't necessarily need to be dissected to be enjoyed. "Jefferson Reed" is another highlight; feeling like an ode to the road song, not so much in its subject matter but in its feel and chorus.
"Some Fathers" takes the album outside of normal singer-songwriter mode by allowing Joyner to freely play his uncompromised version of Americana. Only key production choices are allowed to interfere as Joyner sings, "Even blood turns to dust/only love stays/only love stays." "In My Drinking Dream" dims the lights with minor key laments right before "Nostalgia Blues" floods the room with light so nothing is hidden and everything can be seen.
It's easy to pigeonhole an artist. It's even easier to compare their work to the work of the greats. The interesting thing about Joyner is that he's not easily classified and that his work is not only comparable to the greats, but is parallel to them. Grass, Branch & Bone is an album that is light enough to take in and dark enough to stay with you. Can't you say the same about Blonde on Blonde?