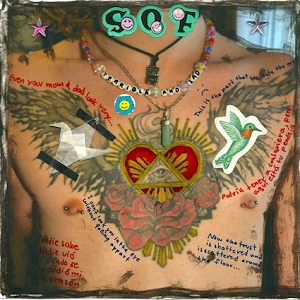 10 May 2023
Berlin's Skin on Flesh are back with a new EP titled Terrible and Sad that was released late last month. Featuring three new songs, the tracks are closely connected and deal with themes that are suitably both terrible and sad. The duo started making music during the COVID panic, so perhaps it's only fitting that the songs here were also born out of a period of high stress in the personal lives of the members. Combining elements of emo, riot grrrl, and 2000s indie rock, the EP was recorded in Mexico City and features local musician Andy's Panic on the final track.
The three songs are a twisted celebration of all things melodramatic and heart-rending. The title track "Terrible and Sad" is a one minute mission statement, a sludgy hardcore burst of intent with the declaration that "everything is terrible and sad" made abundantly clear. It's a classic anthemic opener, leading the way for the real meat of the EP, "Aquí Está Tu Pendeja" and "Se Perdió Mi Corazón (This Is The Part That We Hate The Most)," two achingly personal and emotional tales of heartbreak that oscillate between maudlin, defiant, confessional and even humorous.
Terrible and Sad is a fantastic EP that leaves you wanting much more, and it's an audible testament to individuals climbing out of their struggles, raising the listener alongside them.