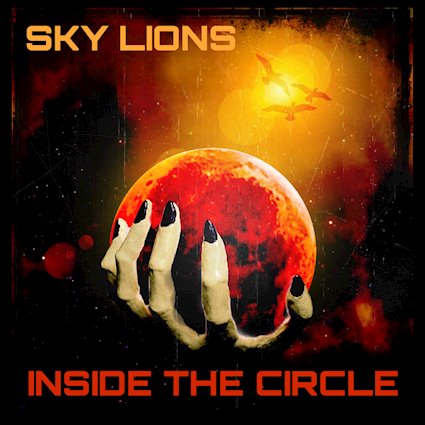 13 September 2023
Music can be many things and mean many different things, not least when considering the listener's expectations compared to the creator's raison d'etre. And that is certainly the case here as Outer Stace, one half of Sky Lions, readily admits Inside The Circle was "an exorcism, a purging of sounds and words we had not previously had the capacity for." So, as we can see, the listener might think that they are listening to beguiling post-punk crashing up against heavier alt-rock sonics, and they are, but they are also experiencing a cleansing of the soul.
This is outsider music, an often fractured and fractious sound, blending gothic tones, cavernous rock atmospheres, hypnotic electronica, and alternative experimentation. It runs from Sabbath-esque doom-laden guitars to Banshees dark and delicious soundscaping, from Patti Smith's punk swagger to Bauhausian broken sonic poeticism.
But lyrically too, Inside The Circle lives outside the box, exploring alternative lives, challenging norms and championing everyone, no matter where they see themselves in terms of lifestyle, gender, orientation, embracing the outsider, celebrating the difference, the live and let live ethic taken to its logical conclusion.
"Werewolves" is both anthemic and ornate, ebbing and flowing between spacious lulls and complex sound bundles, taught tones, and dense sonic textures. "Click Here To Visit Hell" suitably feels like it was actually recorded in a studio in the Fifth Circle of that underworld, probably in a place called Dante's Sound Emporium. And "Inside The Circle" is angular and abrasive, the sound of Siouxsie Sioux dancing over hot coals and twisted metal a song full of angst and anticipation.
As is often the way, both Radio Sloan and Outer Stace have had a long and illustrious career in music, with names such as The Need, Courtney Hole's band The Chelsea, Photona, and Time Bitch to name a few gracing their resumes. But it is when they come together as Sky Lions that the real magic happens.
Bandcamp
Apple Music
Hello Firefly
Psychic Gifts