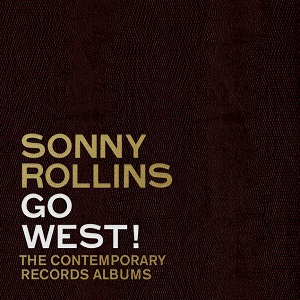 23 June 2023
A mover and shaker in the fifties, jazz label Contemporary Records lured saxophone great Sonny Rollins from his home base in New York to Los Angeles to record with West Coast musicians – a very different experience than working with the East Coasters with whom he'd played. The results, from two different sessions two years apart, appeared on 1957's Way Out West and 1959's Sonny Rollins and the Contemporary Leaders. Both of those albums, plus another disk of outtakes, come together to form Go West! The Contemporary Records Album as either a 3-CD or 3-LP set.
Way Out West was important not only for bridging the gap between L.A. and NYC -, but also because it was also Rollins' first record in a chordless trio format, which he would popularize. Working with bassist Ray Brown and drummer Shelly Manne, the tenor sax great eases into the West Coast vibe, taking a composed stance that reformats his Eastern intensity. Fielding a mix of originals and standards, including two tunes ("I'm an Old Cowhand" and "Wagon Wheels") drawn from the cowboy movies he loved as a child, Rollins sounds confident and relaxed here, swinging over changes implied more than performed. He sounds like he's really enjoying the extra space in the arrangements created by the absence of piano or guitar, but not in the sense that he feels the need to fill it up. Instead, he moves through the air like a bebop falcon, riding the currents swirling from the rhythm section and laying down engaging lines and soulful solos with the singular mastery that was his trademark.
Rollins takes much the same tack on …and the Contemporary Leaders, his final album before a three year hiatus. Fronting a cast that includes Manne, pianist Hampton Hawes, guitarist Barney Kessel, bassist Leroy Vinnegar, and vibist Victor Feldman and sticking to standards this time, the sax titan (who had become a major star between this and West) and his compatriots sound like they're participating in a jam session: nonchalant, spontaneous, having fun – the jazz equivalent of dancing like no one's watching. That's not to say that superior craft and musicianship aren't in evidence, especially from Rollins and Kessel. It's merely to note that "How High the Moon," "Alone Together," and the two Jerome Kern and Oscar Hammerstein II gems "I'm Told Every Little Star" and "The Song is You" are likely as ingrained in the players' DNA as the color of their eyes, which allows everyone to worry less about making a commercial record and simply enjoy the process of performing classic tunes together.
The six alternate takes were originally issued in 1986 on an album called Contemporary Alternate Takes – their presence here makes more sense than having them float around on their own. Though none surpass the released tracks, it's still good to have them compiled, as more music from these sessions can only be a good thing. Indeed, having all of this music in one set offers a lovely peak into an important phase of the Saxophone Colossus' career.