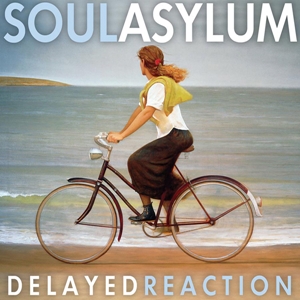 12 July 2012
Soul Asylum, twenty years removed from the zenith of their popularity garnered from the nearly perfect rock record, Grave Dancers Union, the band gives us their tenth studio album, aptly titled Delayed Reaction. Coming six years after the underrated The Silver Lining (itself an album that took eight years to complete), the band's sound has softened. Whether this is an effect of this being the first album without original bassist Karl Mueller (who had passed away from throat cancer in 2005), an attempt at being more radio friendly, or just a natural progression for a band reaching middle age is anyone's guess.
"Gravity," gets things off the ground quickly. This song is proof positive that slowing down pr softening up is not necessarily a recipe for success as it is the second most rambunctious tune on Delayed Reaction. The verse provides a great build and the chorus rises to the highest point reached on the album. The song would even have fit in wonderfully on 1995's fantastic Let Your Dim Light Shine. "The Streets," is a Westerberg-ian track that is bound to come naturally to former Replacement and Mueller replacement Tommy Stinson. The rest of the album largely falls short of matching the intensity of its opener. There are still some very good moments though. Pirner is at his best when he's rhyming rapid fire to the point of near hyperventilation like on "Pipe Dream,". "The Juice," is definitely worth a squeeze. Pirner's off-kilter storytelling is also showcased on the relationship track, "Take Manhattan,".
A welcome addition to the album would have been a song penned by guitarist and harmonist extraordinaire Dan Murphy, whose songwriting contributions have been minimal since the band first hit big, so maybe that is why the reluctance, but I've always enjoyed his tracks. Then again, this coming from the guy who only wants to hear J Mascis-written Dinosaur Jr songs. What you get here is not the ultimate comeback. Soul Asylum's albums in the nineties, yes, all of them, were fantastic. Is this on par with those? No. But it's still good. Pirner is still a catchy tunesmith who is equally capable of having his heart in his throat as screaming his lungs out. I just want him to turn up the volume and not worry about listeners saving their ears for the next round. We like being pummeled and we want you to be the someone to shove.