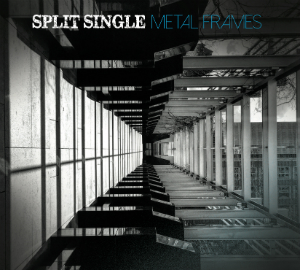 11 November 2016
Metal Frames is the new record from Chicago musician Jason Narducy's project Split Single, and he is possibly best known as the bassist carving out killer low notes for Bob Mould. He's also played bass with Superchunk and Robert Pollard and once had a band called Verbow. Narducy is helped out on this second record by Jon Wurster (Bob Mould, Superchunk, Mountain Goats, etc) on drums, John Stirratt (Wilco) on bass, and Nora O'Connor on backing vocals. So given that storied background, what can you expect on this new release? For starters, plenty of extremely accessible tunes chock full of hard hitting energy and verve. Like the opening track, "Glori", and the catchy gem that follows, "Untry Love". I find myself tapping my toes and bobbing my head as I listen, and the roots of all those Jason has worked with kind of come through. "Glori" even has a spot where the guitar reminds me of Swervedriver. And "Untry Love" is not unlike The Foo Fighters circa "Learning to Fly". "Black Ribbons" starts off with way cool burbling bass and restrained drums, and escalates a bit at the two minute mark, leading into some tasty riffing.
"Leave My Mind" is standard hard rocking fare, but it has neat hooks at its heart. "Still Invisible" is short and fast moving at 2:36, with nice vocals by Jason and Nora. "White Smoke" has an uneasy edge and is short and jagged. "Silences Mercy" is pretty and subdued, and Jason's vocals are particularly good here. It floats through all too easily and ends too soon. "Perilous Pill" picks up the pace and reminds me a bit of Sugar at its start, but Narducy carves out his own style here. "Evaline Make Believe" has a bit of psych guitar noodling and fat meaty hooks. And finally, "Goodnight World" wouldn't be out of place on a Bob Mould platter. In summary, Metal Frames is a solid, hard pop offering with punk-inflected overtones. Recommended if you follow Bob Mould, Sugar, or Foo Fighters.
Catch up with the band and order the album here.