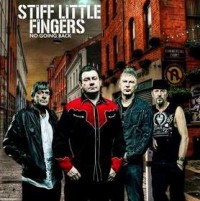 16 July 2014
Speaking of veteran artists making some of the best music of their career, here is the best Stiff Little Fingers album since at least 1982's Now Then if not earlier. I don't know what exactly sets this apart from the also fine 2003 album Guitar and Drum (their last studio effort), but I do have some theories. Perhaps it is the presence of original bassist Ali McMordie, who has come back into the fold since then. It could also be the extremely candid and personal lyrics that Jake Burns has come up with, especially on "My Dark Places," a tune that courageously chronicles dealing with depression.
Most of this fantastic album, though, deals with socio-political topics in ways that are easy to relate to and not hectoring. Examples are "Liars Club," (about the buildup to and aftermath of the Iraq war) "Full Steam Backwards" (about the 2008 financial crisis), "One Man Island" and "I Just Care About Me "(addressing greed). All throughout this record, Burns bemoans a greed-filled culture and the Horatio Alger mentality that has infected it in the last 35 years in particular.
As if to link the album back to their younger years and prove that they are still the same righteous force, the closing track "When We Were Young" also includes a snippet of "Wait and See", the classic track from 1980's Nobody's Heroes that is a tribute to their original drummer Brian Faloon. They didn't need to do that since the rest of the album asserts itself just fine, but it is still a nice touch.