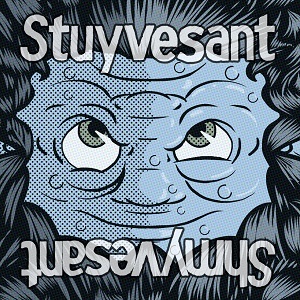 28 January 2015
Back with their third full-length in almost a decade, NJ's Stuyvesant continue their crusade of infectiously catchy rock'n'roll.
Shmyvesant delivers solid, no frills rock with a highly melodic edge. Packed with vocal harmonies, memorable hooks and ballsy riffs, these twelve songs embody "alternative" without falling back on '90s clichés. Elements recall Teenage Fanclub's louder moments or Foo Fighters if they were any good, though the Fender Rhodes-driven ballad, "Grant's Tomb," seems to draw from Grand Funk Railroad and the minute-long "Shhh" is pure punk rock. It's an exciting collection of music that makes you want to unself-consciously rock out with youthful exuberance.
When you need to turn up some loud guitars and sing along, Stuyvesant are there to relieve the itch. It's okay to have fun once in a while.