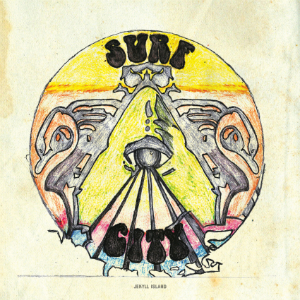 22 March 2015
New Zealand's Surf City is one of those endlessly catchy bands that grabs you right away and never lets go. Self-describing themselves as psych gazers, I would lean more toward the psychedelic part of the formula. They are adept at creating these swirlingly trippy confections that float through your head and tickle your pleasure center. They seem to have mainlined every awesome Flying Nun band of the last thirty years and mashed in some Yo La Tengo for good measure.
Album opener "Beat the Summer Heat" draws listeners in with loopy glee, tossing all the right sonic moves into the mix, with the fuzzy guitars and a guitar line that seems pulled straight from a classic Chills album. If you're going to borrow, you can't do better than that. Vocalist/guitarist Davin Stoddard's almost world weary voice is the perfect complement to their material. "Jekyll Island and the Psychosphere" is gorgeous froth, but the sharp guitar lines provide a nice counterpoint. "Hollow Veins" has a Beach Boys vibe, mostly in the cadence of Davin's vocals. "One Too Many Things" is indie rock at its finest, with a killer hook at its center. "What They Need", with its half spoken vocals, reminds me of The Clean and maybe even Blue Aeroplanes. "Leave Your Worries" should have Ira and Georgia in tow, because this fine song channels the same influences.
"Indian Summer" is like classic Luna (a band I miss greatly!), which is funny because Luna covers a song by Beat Happening with the same title. "Thumbs Up" is one jewel of a tune, and is my favorite on this album. Everything about it is pitch perfect, from its pace to the way its hooks suck you right in. "The End" could be a Perfect Disaster cover, except it's better than most of that great band's songs. "Jesus Elvis Coca Cola" is a fitting coda to a wonderful album filled with trippy goodness. Don't miss this one, folks!