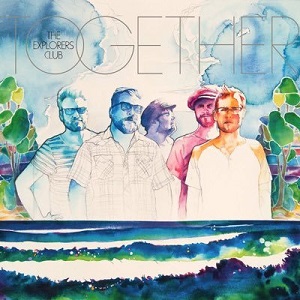 22 June 2016
Over the past fifty years, it seems like almost every act with tight harmonies and lavish instrumentation has been compared to The Beach Boys. While certainly complimentary (considering that the Californian troupe more or less ties with The Beatles as the most influential pop band of all time), it's quite rare that the connection feels truly apt. However, in the case of South Carolina fivesome The Explorers Club, it really fits. Formed in 2005, their prior two LPs, 2008's Freedom Wind and 2012's Grand Hotel, capture perfectly (and miraculously) the radiant melodies, sophisticated production, introspective and/or hopeful lyricism, and perhaps most impressively, thick vocal counterpoints that compositional genius Brian Wilson forged half a century ago. Unsurprisingly, the group maintains such seamless excellence on their third studio outing, Together. Feeling both modern and wonderfully vintage, the collection is sure to delight anyone who adores dense and cheerful tunes.
In addition to the aforementioned precursor, The Explorers Club also looks toward both the "classic rock and roll arrangements" of Phil Spector and "songwriters [like] Jimmy Webb, Burt Bacharach and Paul Williams." In terms of career highlights, they've played alongside Earth, Wind and Fire, Cheap Trick, The Polyphonic Spree, and The Zombies, as well as had material featured on CBS, HBO, and Fox. All these benchmarks have been well-deserved, and with any justness, Together will bring the quintet even more mainstream success.
"Together" begins the sequence with wistful power: a dominant bass line, swirling tones, and steadfast percussion guide pensive verses and hopefully choruses. Of course, vocals layers cascade the entire time, be they moving around each other or colliding into a single joyous outburst. The psychedelic breakdown near the end is especially captivating, with fuzzy guitar riffs blending into colorful harmonies for a majestic aural collage. Afterward, "California's Callin' Ya" appears as a softer and slower waltz with plenty of falsetto singing and an overarching romantic temperament, while "Once In a While" emphasizes doo-wop rows in the midst of maintaining its dreamily disposition.
Melodically, "Be Around" is a slightly reminiscent of "You Still Believe in Me" (from The Beach Boys' 1966 masterpiece, Pet Sounds), although it's certainly more spacious and upbeat, with some lovely orchestration added at the conclusion. "Gold Winds" is arguably the most joyous track here (which is saying something) because every element feels sunny and carefree, whereas "Perfect Day" is a brief ballad made up entirely of harmonies and surf guitar strums. Essentially, it's a sonic love note, and the little-frills approach allows the sentiments to shine.
Later on, "My Friend" follows the established trajectory until its final moments, when a bit of hyper wackiness recalls '50s rock 'n' roll legends like Little Richard and Jerry Lee Lewis. In contrast, "Don't Waste Her Time" utilizes Wilson's trademark sleigh bells (a nice touch!) to add a subtle coating to the somber cautionary about—you guessed it—letting the girl of your dreams get away. Honestly, it's tracks like this that demonstrate how dedicated The Explorers Club is to recapturing the music of the '60s; even its subject matter speaks to simpler, more innocent concerns. Like "Be Around," the final proper song on Together, "Before I'm Gone," feels like a nod to a beloved Wilson ode; in this case, the forlorn verses of "'Til I Die." Nevertheless, it still feels quintessentially Explorers Club, too, thanks to its alternating vocal effects and subtle arrangement shifts. As an added bonus, "Dream Montage" finishes the record with a short but sweet amalgam of previous clips, which is pretty cool.
It may seem unfair to consistently reiterate how much a new band emulates an old one, but in this case, it's meant as a compliment, not a detriment. For one thing, The Explorers Club happily endorses the comparison, and, frankly, they do it so damn well that it comes off as charming and exciting rather than derivative. After all, The Beach Boys (and similar acts of the era) pioneered such a unique and lovable formula, so it's only right that someone holds the torch now and presents said recipe to new audiences, right? The Explorers Club is far too talented and ambitious to be a tribute act, though, so they rework those nuances into satisfying original compositions. Together may be their best effort yet in that regard, and it should make stylistic fans both young and old smile.