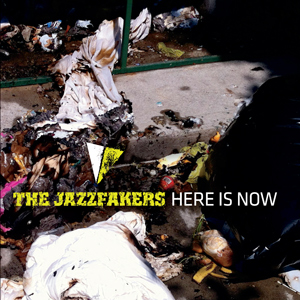 7 April 2013
Oriented squarely at devotees of the noise/improv scene, The Jazzfakers Here Is Now culls from a mercifully diverse sonic bag of tricks so the ear never quite gets worn out by one set of elements stretched to the point of over-endurance.
Spearheaded by multi-instrumentalist David Tamura and violin/bits player Robert L. Pepper (aka PAS ) and recorded by top experimental rock/noise producer Martin Bisi in Brooklyn, this collection is a dense and baffling set of pieces, some aggressive some a bit more whimsical and fun, in all a well paced, miles deep and witty adventure in gestural music.
Opener "Wheres Ion" filters out the weak souls among the potential listeners with it's barrage of drums, feedbacking violin and wank-tank guitar spasticity. The Sputnick breakdown into pointillistic midpoint gives way again to more gnarly noise and the jazz inflections. For those who survived, follow-up "Whee Irons" is far more whimsical. Opening with scratchy guitar tapping over a monotonous vocal shaping filter modulated by a kind of pitch rider, it breaks down with more of the aimless sweep-picking and cardboard box percussion until jamming it's way into detuned bowed something stabbed through with sped up jazz and some cheap keyboard splats over more of that crazy guit-noodling. "Oh Rise New" allows for some form of tempo and pitch changes, sounding slightly dipped and basted in an early Naked City sensibility in it's lope and sax. "Nowhere Is" maintains a bit of the throwback vibe while segueing the sax into more squeak and squelch territory. Tinges of Ayler with a tiny scrap of a Louis Armstrong melodic quote at the very end over (ironic?) chromaticism. Perhaps one of the most timbrally rich pieces follows, Nowhere Is which devolves the violin into nails-on-a-chalkboard-like abstraction while a wobbly chorused bass coaxes out a shuffle from the drums near the end, and out of nowhere a keyboard laces the whole deviant mess with some "Doogie Howser" tone.
"Weise Horn" makes interesting use of envelope filters and foreground/background motion while the sax, drums and bass lurk like ominous blind thugs. "Her Woe Sin" starts off like a Penderecki piece, dissonant drone of keyboard barely masking a jungle-scape of ugly sounds, breaking halfway (as these tracks do) into a shambolic dirge. "Horse Wine", which is my favorite of these anagrams they've used as song titles, is one of the more enticing and evocative tracks on the album, starting off with a snaky bit of hand-drums and a conversational guitar and a singing sax, shades of Rene Lussier and Jean Derome. Epic 12 minute closer "Hero We Sin" takes it's time in extrapolating, unpacking each element, akin to what an old school jazz show might provide with each instrument taking it's turn in the spotlight. These bits pass in and out of kitschy 60s Sci-fi sounds references, or a nod to the "bleep-bloop" era of electroacoustics.
In the end, through deep listening, I really appreciated the impressive structure built by these ace musician/composers. Not being a huge fan of either acousmatique or concrete (or jazz for that matter), there is a very listenable quality to Here Is Now that underscores master musicianship for what it is: when to contract, when to release, when to obscure and when to give clarity and focus. In that sense it's a fun, punk, and rich collection by some obvious masters of the craft and sure to please any real fans of the genre!