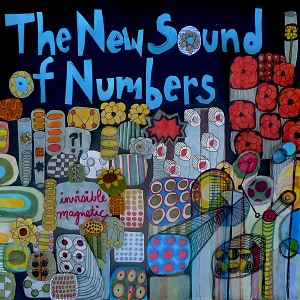 7 February 2014
Featuring members of Pylon and Olivia Tremor Control, Athens, GA's New Sound of Numbers deliver a post-punk spacerock masterpiece with their sophomore LP. Prepare to have your mind blown.
Invisible Magnetic is a collage of so many musical elements, it's in a genre of its own. At the core, there's angular post-punk, particularly that of The Slits and Lydia Lunch's 8-Eyed Spy, though bandleader/vocalist/12-string guitarist Hannah Jones sounds more like Siouxie in her detached monotone. Various noises waft in and out as trumpet and violin dance around each other, which, when combined with the insistent bass, lends a very Hawkwind feel to the songs, as well as experimental psychedelia, e.g., Fifty Foot Hose, The United States of America and Silver Apples. These songs are so absolutely well-crafted and sophisticated that they fit just as well within the realm of avant-garde composition as they do within the rock dynamic.
Athens is certainly becoming hot-bed of amazing music once again, and The New Sound of Numbers epitomize the diversity and talent coming out of North-Central Georgia. Do yourself a favor: Grab this stunning slab of art as soon as possible and go on the Hannah Jones trip for a bit. It's quite a unique state of being.