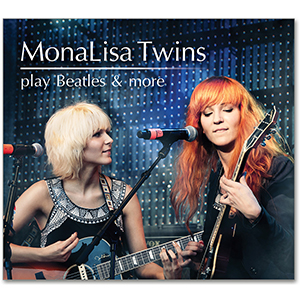 6 February 2014
Covering ANY Beatles song, much less enough songs to fill the majority of an album, is a decision that must be taken seriously because there are a lot of questions that will come up, including if it's even worth it to cover at all. However, one of the biggest issues is whether to stay faithful or not, because if one stays faithful, it's impossible to match the original and if you drift too far away, you risk tampering with a good thing. The duo MonaLisa Twins have undertaken this challenge with their new album MonaLisa Twins Plays Beatles & More, and ended up with pleasantly surprising results.
MonaLisa Twins have decided to stay largely faithful to the original Beatles recordings, and have pulled it off incredibly well. Some end up better than others, but not only do they have enough confidence to cover the beautiful harmonies of "This Boy" but their version is nothing short of beautiful. The harmonies get as close to matching the brilliance of the originals as possible, and they manage to encapsulate every single drop of Lennon's raw emotive content. Elsewhere, the Beatles covers are full of energy and excitement, from the pure fun of "Can't Buy Me To Love" and "Day Tripper" to the subdued in "In My Life".
The great part of this record, however, is their decision to cover other era-specific pop standards, mixing in seamlessly with the music that influenced them. Among these is the classic Easybeats' "Friday On My Mind," and Buffalo Springfield's "For What It's Worth". The best of these non-Beatles' covers, however, is their version of the Beach Boys' "God Only Knows". Rather than try to recreate the grand scope of Brian Wilson's original creation, they've peeled back all the layers and ended up with a beautifully simplified rendition. I'm typically skeptical of cover albums, but MonaLisa Twins have made one of the best in years. MonaLisa Twins Play Beatles & More will be released March 28th.