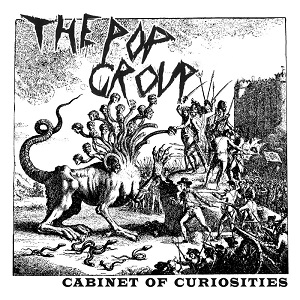 19 November 2014
Bristol's post-punk pioneers, The Pop Group, continue their mission of revitalization with a collection of non-album singles, live tracks and previously unreleased songs and takes recorded throughout their career.
Beginning with "Where There's a Will" from their final single, a split with The Slits, and the original version of their first single, "She's Beyond Good and Evil" produced by Roxy Music's Andy McKay, Cabinet of Curiosities truly shows the versatility and influence of the musicians from their glam funk origins to their final disco-dub attack. Here, the band is shown to be kindred spirits with The Velvet Underground, who, it was said, could never play the same song the same way twice. Whether an unfulfilled demo or rare live recording, each track bares the immediacy of necessity, like it was the last time they could ever play the song. The Peel Session of "We Are Time" actually one-ups the album version from 1979's Y, while the live recordings of "Colour Blind" and "Don't Sell Your Dreams" completely redefine the songs. It all culminates with "Karen's Car," their previously unreleased final demo showing the band at their most ferocious.
Whether you're an old fan or a new discoverer, Cabinet of Curiosities serves as that missing link in the Pop Group canon. Pick it up with the reissue of We Are Time and marvel that they've gone so under-appreciated for so long.