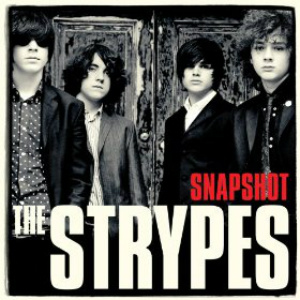 18 March 2014
After the shot of young men's blues on the Blue Collar Jane EP, the Strypes, Ireland's successor to the Undertones in the teenage rock & roll sweepstakes, finally drop their full-length debut Snapshot in America. As with the EP, the record fairly jumps off the turntable (or out of the iPod speakers), crackling with energy and hooks.
"Mystery Man" blasts out of the pole position with a punk rock spine and a R&B heart, like Dr. Feelgood after too many Frappucinos. It leads directly into the smashing "Blue Collar Jane," reprised (as are all the other cuts) from the EP. The rest of the record burns at the same high temperature: "She's So Fine," "Perfect Storm" and "What a Shame" roar with catchy melodies and a rock & roll spirit rarely heard in these autotuned times, while "Angel Eyes" goes straight for the blue-eyed blues jugular. Blazing takes on two Bo Diddley tunes ("I Can Tell," "You Can't Judge a Book") and the Muddy Waters standard "Rollin' and Tumblin'" show a band with enough respect to treat a classic well but enough irreverence not to be precious about it. Ross Farrelly's raw singing conveys each lyric in equal parts heartfelt passion and teenage snot; Josh McClorey's skilled six-string slash belies his tender years. The engine room practically attacks the rhythms like a panther would a wounded deer.
It's easy to be skeptical of a band so young being so good at a sonic blueprint popular when their grandparents were young, and it remains to be seen if this is its members' true love or if there are puppetmasters pulling strings somewhere. But regardless if the Strypes have more in common with the Beatles or the Monkees, the power, appeal and, yes, soul of Snapshot is undeniable.