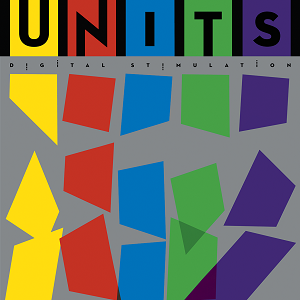 19 August 2015
After forming in 1978 and putting out 2 self-released 7"s and a self-released 12" EP in 1979, San Francisco synth-punk pioneers (though co-founder Scott Ryser, in his liner notes to this reissue, rejects that term in favor of simply punk) The Units signed to 415 Records and released their only full-length album Digital Stimulation in 1980. In the 35 years since its release, it has become a coveted collectors' item due to its rarity and the fact that it can go toe-to-toe in terms of quality with more well-known contemporaries like Devo, Wall of Voodoo and The Screamers along with UK progenitors of the style such as early Human League or Cabaret Voltaire. Now comes this welcome reissue, which is on beautiful 180 gram yellow marbled vinyl and includes an insert with liner notes, lyrics and rare photos along with a full-color poster. In its wake, hopefully this gem will become more well-known.
Whereas some bands of this sort used a drum machine, The Units did not and that makes a huge difference here. Drummer Brad Saunders' African polyrhythms propel this material into the stratosphere and make it rock a lot harder than it would otherwise. The foundation, however, is some excellent songwriting with re-recorded versions of both single A-sides included (an absolutely stunning opener, "High Pressure Days" and "Warm Moving Bodies"). The lyrics of these songs and others alternate between the visions of hustle and bustle dystopia prevalent in "High Pressure Days" along with the creepiness of "Bugboy" with much of the rest of the material somewhere in between. "Mission" is an ode of sorts to San Francisco's then gritty but now rapidly gentrifying Mission District neighborhood.
In summary, this is another fantastic reissue from Futurismo. Between this and their reissue of the Contortions' debut Buy earlier this year, the've been hitting it out of the park lately. I can't wait to hear what they have in store next.