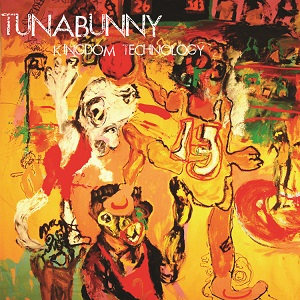 2 April 2014
In a bold, unexpected move, Athens, GA's Tunabunny drop the Fall-like post-punk that had come to define them in favor of electronic music, yet somehow create an album that is wholeheartedly rock at its core. Somehow, they pull it off with fantastic effect, creating a mesmerizing album that destroys old genres and makes new ones.
"Airless Spaces" opens Kingdom Technology with a sprawling wave of fuzzy pulsing and vocal harmonies that recalls Kraftwerk circa Radioactivity, but also early PiL. Clearly, a new Tunabunny has arrived, as this is something completely different than the band on Genius Fatigue. Where "Save It Up" nods to both italo disco and modern electronic pop and "Chalked Up" locks into a tight ESG groove, "Canaries In Mineshafts" and "Coming For You" blend no wave noise with '80s pop melodicism for something that's somewhere between Sonic Youth and The Pixies. "Power Breaks" is like Neu! with an 808 drum machine, effectively updating the motorik mindset for the retro age. The dark, psychedelic experiments of "Tete-a-Tete" and "Bag of Bones" add an air of mystery. It could be an album of arranged soundscapes rather than proper songs, except that the tracks are so catchy, listenable and almost danceable that it becomes something entirely other than what it appears to be.
Ultimately, Kingdom Technology is as drastic a departure as when Pairs delivered Your Feet Touch Ground, a Carousel and alienated most of their fans. Tunabunny may lose some of their audience here, but those of us who understand it, who feel it within us and know it to be the truth, will hail it as the groundbreaking masterpiece it is. All hail thee mighty Tunabunny!!!