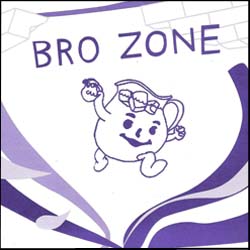 12 March 2006
The party mood and spirit of collaboration that runs through the best hip-hop mix tape is what drives States Rights Records' Bro Zone compilation. And the CD even starts with a mock mix-tape intro, featuring shout-outs to the contributors. Yet the music isn't hip-hop but rather a wildly eclectic mix of pop music styles, much of it flavored with electronic textures and bright hip-hop-ish beats.
Portland, Oregon is the home of States Rights, and many of the artists included. Between States Rights, Audio Dregs Recordings, and Fryk Beat (not to mention the great Hush Records), there's a ton of amazing music being released from Portland labels. Bro Zone casts its net wider than just Portland, but has a focus on artistic community and includes a lot of artists who have played together, toured together, and recorded together.
The general spirit of Bro Zone is that of progress, of combining styles and genres in exciting ways. And of creating what you feel, making the music you want to, not what you think other people will buy.
Take, for example, BOBBY BIRDMAN, whose "I've Been Away (Too Long)" and "Dreemz (featuring LITTLE WINGS)" appear here. He has a spectacular crooner's voice, but instead of singing straight pop ballads he likes to mess around with beats and textures and atmospheres, and incorporate his singing with all of that. "Dreemz" is a perfectly screwed-up FLEETWOOD MAC cover. In concert he's liable to sound like a modern-day song stylist one minute and rap a verse from a PAUL WALL song the next.
Or take DEAR NORA and CASIOTONE FOR THE PAINFULLY ALONE. Both can write catchy, relatively straightforward 'indie pop' tunes, but here they collaborate on a freaky-fun cover of "Hot Boyz" by MISSY ELLIOTT.
Bro Zone is filled with young pop musicians influenced by hip-hop, by R&B, by dub reggae, by electronic dance music, and by so much more. Yet instead of just trying to 'do' one particular genre they're always following their inclinations and combining it all together, filtered through their own daydreams and imaginary tales.
And it's all blended together into an album that can take in a world of personalities without feeling disjointed. There's spacey experimental pieces (WHITE RAINBOW), infectious progressive pop tunes (PARENTHETICAL GIRLS, KANDA), dreamy moodpieces ([[[[VVRSSNN]]]], PAPER), stripped-down personal folk (THANKSGIVING, GOLDEN SHOULDERS), next-generation lounge music (THE WATERY GRAVES OF PORTLAND), and distinctive new electronic anthems (HOOLIGANSHIP, YACHT, LUCKY DRAGONS). And most of those descriptions go nowhere towards really communicating how rich and complicated each song is.
All of the music on Bro Zone has a positive, uplifting feeling, like a supreme celebration of the artistic impulse. And all of it is ridiculously fun.