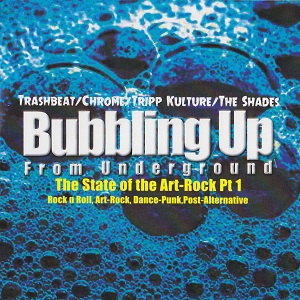 25 June 2015
Veteran punk bassist, Steve Fishman (Bent, The Deadbeats, DFO, The Playboys) showcases his numerous current projects on an eclectic compilation that spans from glam to noise rock.
Though Fishman connects the various artists with his distinctive songwriting and bass playing, Bubbling Up From Underground does not come off as a one-man-show masquerading as a collection. The Shades open with "Cool Me," a soulful, sexy romp blending funk with early '70s glam rock. Trashbeat appear with four songs that could be Roxy Music with a touch of David Bowie and The Stooges, while Tripp Kulture's four tracks conjure the industrial punk weirdness of Helios Creed and Butthole Surfers insanity. Not surprisingly, Chrome make an appearance with an excellent cut from their latest album, Feel It Like a Scientist, and Japan Sound Ensemble offer a one-minute sound collage. It all comes together with "Bloody Lies" by Major Collective, which features The Stranglers' Hugh Cornwell on vocals over a driving Massive Attack-like groove.
Borne from the sweat and toil of one Steve Fishman, Bubbling Up is a solid collection of music that deserves to be more widely heard. Turn it up and bask in its unusual aura.