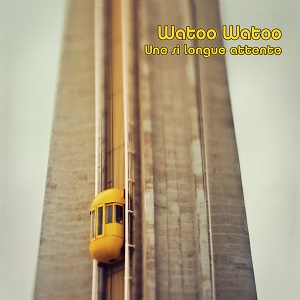 18 March 2014
Bordeaux, France is known mostly for wine and history, two subjects that certainly influence the married duo of Pascale and Michael, aka Watoo Watoo. Now on their fourth full-length, the couple continues their cool pop sound while expanding it to express a range of depth.
On the surface, Une Si Longue Attente comes across as an excellent piece of lounge-y Stereolab worship, though closer listening reveals much more. Shades of Forever Changes-era Love can be heard in "Ce Vide," and "Un Simple Mot" seems to have some Seeds influence in the keyboard. "Searching For Mr. Right," the only track sung in English, is pure bossa-nova, while "Minnax" sounds like the theme for the best '70s French secret agent movie never made. Throughout, Pascale sings in a soothing whisper, somewhere between Keren Ann and the more mature Françoise Hardy, perfectly conveying the mood of Michael's cinematic soundtracks without the need of French as a second language. It is the sound of true love and respect between two people who choose to celebrate their relationship through music.
The winter has been persistent, but spring is coming. Let Watoo Watoo help your flowers bloom in the warming rain.