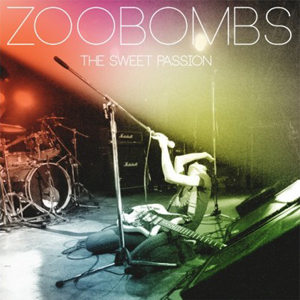 16 December 2012
So much ink has deservedly been spilled over this incredibly hard working band from Tokyo, Japan. Zoobombs have recorded and toured relentlessly since the early 90s making a special effort and taking great pains to make regular excursions over the Pacific to blow American and Canadian concert goers' minds. This first time I experienced the rock n roll might of these guys was quite by accident, wandering into a long-closed venue on the Main where they were busily setting the stage on fire with completely in-the-red chops of garage rock madness. I was immediately smitten and since have had the honor of opening for them a couple times with some of my bands. How hard to encompass the now-venerable band's long and complex career, changing sounds and shifting gears at dangerous speeds, one period in the 90s saw them getting funky, with raunchy wah-wahs and breakbeats and shouted refrains, (a sound now kept alive by homies uhnellys) Sometime in the early noughts they delved balls deep into short garage punk songs, honed and crafted to showcase the fire and sweat of lead Zoobomber Don Matsuo, his wild man shtick rooted with aplomb by the nimble and accurate keys of mate Matta Matsuo. Gradually they loosened the sound and let space in until they arrived at some sort of driving, psychedelic rock behemoth that can cruise along at any speed and never lose the thrill of the ride. Their newest release The Sweet Passion is a pinnacle of the Zoobombs efforts, combining every chop they've ever learned and every trick they've picked up through endless touring into a joyful eargasm which translates perfectly onto the stage. Keeping the foundation are long time bass-man Moostop Ryoji Watanabe and drummer Pitt Ryo Kanamori.
The album starts with an immediately ingratiating salvo "Plasticity" which lays down the plan: you will rock, fists will be pumped. By the time the jingle-bell and wah pedal fest of "Big Picture" occurs, we're well on the path to transcendence. What might be a closer on a lesser band's album, the 'bombs are just getting revved up. The energy carries us through burner "We're Gonna Get Down" with one of the sickest guitar solos ever laid down, anywhere. "Come with Us" changes the pace to epic, with some happily resolving chords that'll have you waving your hands in the air, carelessly. "Bored Kid" drops a swing in the rock party, building up and up to the psychedelic plateau of a Zoobombs rendition of "Amazing Grace" (with nods to Hendrix). "New They, New We, New You, New Me" drops some highway boogie to get things back on track for another tireless build which arrives with a rocket on "African Beat Drive" which blends Sun Ra and full tilt psych garage, maybe even a hint of the noisier side of Spiritualized in there? Anyways it's a real mind warp that takes awhile to come down from but when one does, the feel good, hug-yer-buddy anthem of the century "My Big Friend" is there to catch you.
The Sweet Passion goes a long way to capturing what Zoobombs are capable of, but it's only through catching one of their incredible live performances that you can fully appreciate what this band can truly do. Until they manage to return to this side of the ocean you'll have to find a way to get this puppy (itunes?) because outside of their shows, I can't fathom how to get one's hands on their releases our side of the Pacific.